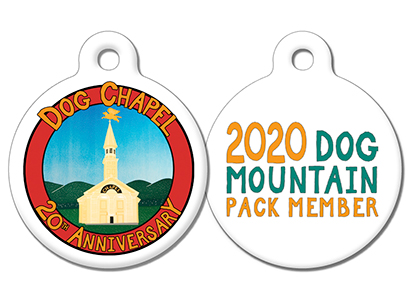 Annual Park Pass:
Friends of Dog Mountain aims to keep Dog Mountain and the Dog Chapel free and open to the public in perpetuity. Although not required, we do ask visitors to consider making a nominal donation to help with upkeep, maintenance, and revitalization of the grounds, dog ponds, meadows, fields, hiking trails, and to assist with other costs associated with keeping Dog Mountain open and accessible for the public.
For frequent visitors – and/or those interested in supporting FODM's work at a higher level – we are offering an annual pass. With your annual pass, you will:
Receive a limited edition, commemorative Stephen Huneck Dog Tag.
Enjoy the Dog Chapel and Dog Mountain year-round knowing that you have contributed to its sustainability for future visitors and generations to enjoy, appreciate, and benefit from.
Friends of Dog Mountain is a certified nonprofit organization established by friends and family of the Huneck's to steward and protect Dog Mountain and Stephen Huneck's art for future generations to enjoy and appreciate. In November of 2017, FODM took ownership of Dog Mountain and is actively raising funds to advance our work and to revitalize Dog Mountain after several years of minimal maintenance and attention. Please consider making a donation. Thank you!