The town of St. Johnsbury welcomes all kinds of pets, and there's a special place in the St. Johnsbury community for dogs. Every dog and dog-lover can revel in the joy of Dog Mountain: 150 unspoiled acres for romping, where dogs are not just welcome, they are cherished.
The St. Johnsbury community cares for families, and they count four-legged members as part of the clan. The St. Johnsbury Chamber of Commerce has developed some guidelines to make sure everyone is safe and comfortable when visiting.
---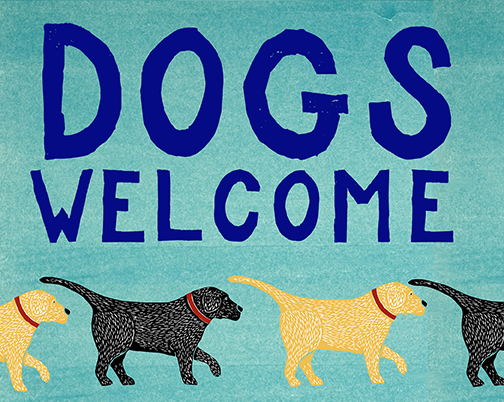 Dogs Welcome Decal:
When you see the Stephen Huneck "Dogs Welcome" decal at a local establishment, here's what the merchant is saying:
---
Local Pet Resources:
Small animal veterinarians/animal hospitals:
pet food and accessories:
Pet Friendly Hotels and Accommodations:
For overnights, you and your pet will find comfortable accommodations at these establishments. Please call ahead to reserve a pet-friendly room and ask about additional fees.
Pet walkers/groomers/day care: