Testimonials
---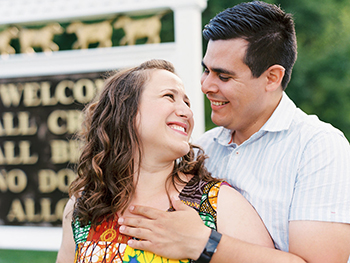 "In August of 2016, Santi proposed to Allison in the field of wildflowers at Dog Mountain with their dog, Oakley, galloping around, chasing bumblebees nearby. Two years later, it was perfectly fitting to take their engagement photos in that same field, with Allison wearing the same dress that she was wearing when Santi proposed, and with Oakley continuing to romp through the grass at his favorite place on earth. They got married in September of 2018 at the Alerin Barn, right down the street from Dog Mountain and with Oakley as their ring-bearer. Dog Mountain and St. Johnsbury will always be special and magical places for their entire family, and they will continue to visit for years to come, even despite their recent move to Washington DC."
-Allison, Santiago, and Oakley
---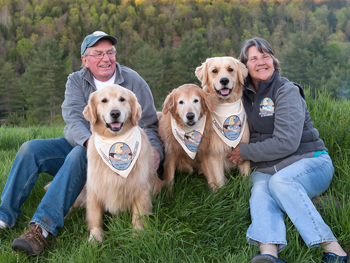 "Our search for the perfect New England venue to host a celebration began with a drive up the I-91 corridor, through the quaint town of St. Johnsbury and up the road to Dog Mountain. Our eyes fixed on the white clapboard structures, the Dog Chapel steeple, and the mountainous views extending beyond valleys and landed on a sign that read 'No Dogmas Allowed'. Our hearts were full and our search was complete. We had found the happiest place on Earth for dogs and dog lovers. With no leashes required, a pond for swimming, fields to romp in and trails to explore, our three Golden Retrievers agreed. Within the beautiful chapel we found walls covered with memories of pooches loved and lost and inside the Gallery the wonderful art of Stephen Huneck, each piece a tribute to the joy of the pets with whom we share our lives.
Ever since that first visit years ago, we have been proud to call Dog Mountain the home of the New England Golden Jubilee, an event that brings together dozens of Golden Retrievers and their people for a weekend celebrating the breed and raising awareness and funds for canine cancer research and Golden Retriever rescue efforts. Attendance increases with each year as does our love for the venue.
The General Manager and her staff are exceptionally helpful and accommodating. Their dedication to the success of the New England Golden Jubilee is equal to our own. We wholeheartedly recommend Dog Mountain, Home of Stephen Huneck Gallery, with its welcoming ambiance for any dog friendly occasion to remember always. "
-Sandra and Peter Lok
Organizers of the New England Golden Jubilee
---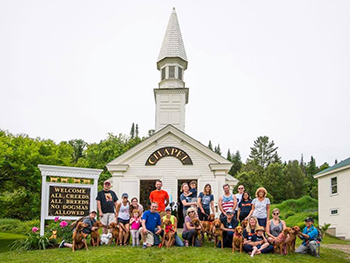 "Thank you Dog Mountain for being such wonderful hosts. Viz Whizz hosted their 2nd annual Vizlsa meet up over the Father's Day weekend and everyone loved it. With spectacular views and your dog by your side, what more could you ask for? We want to thank Pam McCann and her team for their help with local resources & continued support in helping us with our Events at Dog Mountain. We can't wait to go back."
-Nicky Monahan
Viz Whizz USA, Founder
---