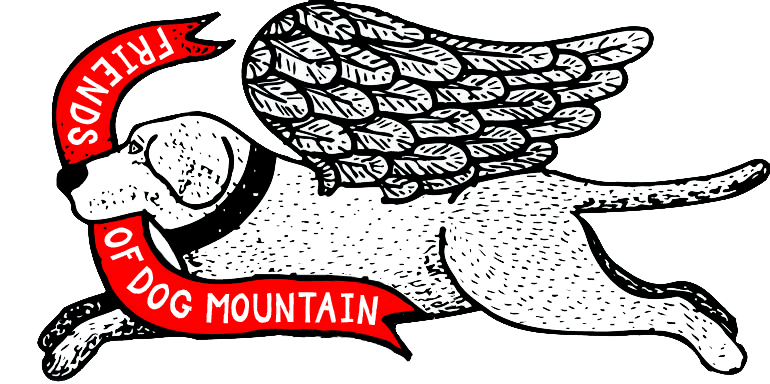 FODM 2020-21 Update: Through all of this year's hardships, being out in nature has been a salvation for many, and when we can't visit with loved ones, the company of our beloved pets has been a source of much-needed comfort and joy. At Dog Mountain, we are so happy to be one of the places people and pets can visit safely, year round and free of charge. How lucky we are to have 150 acres of beautiful wide open spaces! Never before have we felt so strongly about the importance of Dog Mountain to our community, and we are gratified every day to offer our four-legged friends and their human companions a respite from day-to-day stresses.
Although 2020 has been a year unlike any other, with your help, Friends of Dog Mountain has persevered. Here are some highlights of our work thus far and an overview of some priorities for 2021:

20th Anniversary of the Dog Chapel:


2020 marks the 20th anniversary of the Dog Chapel as well as the launch of our Give the Dog Chapel Wings Restoration Project! Thanks to your support, in 2021 we'll "Give the Chapel Wings," by restoring and reattaching the steeple's iconic Angel Dog who used to watch over the Dog Chapel.


Preservation of Stephen Huneck's Art:


A core element of Friends of Dog Mountain's mission is the preservation of American artist and Dog Mountain creator Stephen Huneck's work. Stephen Huneck's distinctive work is featured in permanent collections at the Smithsonian, the American Kennel Club, the Dog Museum of America, and galleries nationwide. His furniture, sculpture, woodcuts, prints, and more can be found in private collections around the world, and his critically acclaimed books featuring Sally the Black Lab have captivated readers of all ages. Friends of Dog Mountain works year-round with your support to honor and sustain this legacy. Most of Huneck's original wood blocks, sculpture molds, and furniture designs are maintained by Friends of Dog Mountain. We've recently begun a massive conservation and storage project to preserve Huneck's collection. Advised by a team of experts, our dedicated staff and Board of Directors is deep into the process of cataloging, photographing, archiving, cleaning, repairing, and safely storing Huneck's extraordinary body of work for long-term preservation and enjoyment.


Repairs, Maintenance, and Improvments:


Stephen Huneck considered the entirety of Dog Mountain – the ponds, trails, wildflower fields, vistas, and iconic Dog Chapel – to be his ultimate artistic accomplishment. Friends of Dog Mountain will be addressing the deferred maintenance to the Chapel, barn, and other buildings on Dog Mountain in 2021. Additionally, in our endeavors to make improvements and repairs to the grounds and buildings, we are working to increase physical accessibility, so that all members of our community can visit this very special place.


Community Outreach and Partnerships:


Dog Mountain has amassed a skilled and dedicated team including the FODM staff and Board of Directors. Friends of Dog Mountain also relies year-round on community partners—including you!—to maintain our mission. Dog Mountain's longstanding friendship with Catamount Film & Arts is well established, (we can't wait to see you next summer at Levitt AMP!), and during this tumultuous year, Catamount has generously dedicated leadership and technical resources to help support Dog Mountain. We look forward to continuing our partnership with Catamount Arts in 2021.