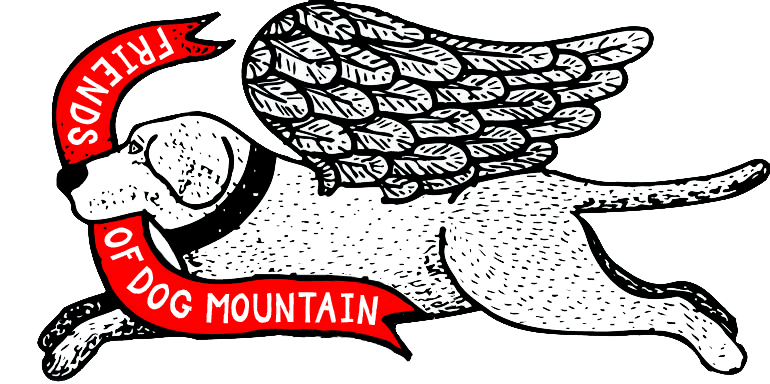 FODM 2019-20 Update: It's been another tail-wagging year for Friends of Dog Mountain! The future of Dog Mountain and the plight of Stephen's remaining art had been uncertain since 2013. At the close of 2017, the culmination of 2+ years of work was realized: we were delighted to announce that the majority of Stephen Huneck's remaining art and the 150-acre property known as Dog Mountain were successfully conveyed to Friends of Dog Mountain (FODM), a certified 501(c)3 nonprofit established by friends and family of the late artists.
With that important milestone achieved, our focus is on the identification, evaluation and prioritization of key projects and initiatives to advance our mission and on the development of management and fundraising capacity across our young organization. Here are some highlights of our work thus far and an overview of some early priorities:

Dog Mountain Repairs, Maintenance, and Improvements:


Stephen Huneck considered the entirety of Dog Mountain – the ponds, trails, wildflower plantings, vistas, Dog Chapel, and other artistic features – to be his ultimate artistic accomplishment, contribution, and statement. Over the past several months we have worked closely with contractors and volunteers to identify key building/site repairs and needs and other improvements to enhance accessibility and the overall visitor experience (two footed and four-footed). With more than 10 years of deferred maintenance on Dog Mountain's buildings, site, and art installations, there is no shortage of important, urgent, and exciting work to be done at Dog Mountain. Moving forward, key priorities include: enhanced signage and wayfinding, repairs to the exterior of the Dog Chapel as it approaches its 20th anniversary, repair and reintroduction of more of Stephen's art around Dog Mountain, cleanup and organization of various outbuildings and their contents, maintenance and repair of the two primary dog ponds, and upgraded guest/visitor infrastructure.


Preservation and Stewardship of Stephen Huneck's Iconic Art:


By engaging an independent museum/collections consultant and other volunteers with expertise in collections management, we gained a much deeper understanding of how to approach the preservation and stewardship of Stephen's art for future generations to enjoy and appreciate. This is a very deep and exciting body of work with immense possibilities. We are actively evaluating plans for the establishment of a "permanent collection" of Stephen's art as well as exploring addition to the National Register of Historic places. As we look to 2020, a number of early steps have been prioritized: catalog/photograph all of Stephen's remaining art, woodcuts, furniture, molds, sketches, and documents; purchase appropriate archival storage supplies; move the art to more environmentally suitable and stable conditions; protect the art from external threats (water, fire, etc.); and purchase the remaining pieces of Stephen & Gwen's personal art collection.


Programming & Events:


Dog Mountain continues to host our summer and fall dog parties, our annual Labor of Love volunteer day, and a host of smaller events throughout the year. In partnership with Catamount Arts, we were once again honored to host the Levitt AMP St. Johnsbury Music Series this past summer: ten consecutive weeks of free, dog-friendly concerts featuring up-and-coming national artists. With just under 1000 attendees and their dogs each week, it is a joyous site to behold. We are working closely with Catamount Arts to host the Levitt AMP series once again in 2020. We expect to introduce additional dog focused programming and events as we get closer to the 2020 summer season. We have also been busy developing offerings for more private events such that will help to generate income and advance our mission. Look for more news on these fronts in early 2020.


Organization and Capacity Development:


Transitioning and integrating the operations, management, and finances of Dog Mountain, the Stephen Huneck Gallery, and FODM continue to be a focus for our young organization. We are fortunate to be supported by a dedicated staff and a host of sensational volunteers which have helped to facilitate a smooth transition. We are particularly grateful that Ali Ide, Stephen and Gwen's niece, who has assumed leadership of the Gallery and is a key partner in our efforts to secure Dog Mountain's future. Generous volunteers – whom we can never thank enough! -- have helped address critical road, parking, and drainage issues; initiated re-routing of one of Dog Mountain's primary trails which was discovered to have been on abutting lands; and provided countless hours of grounds and art stewardship throughout the year. In 2020 we hope to hire a fundraising professional to organize and spearhead our fundraising efforts around key long-term initiatives, further consolidate our finances and accounting, expand our board of directors, and further develop our volunteer programs.