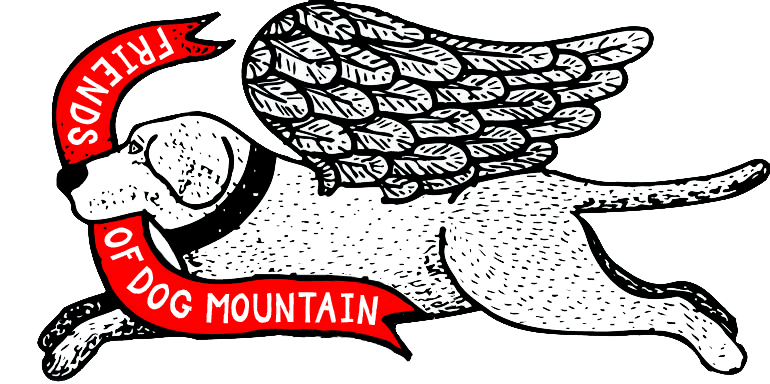 Exciting Updates: The future of Dog Mountain and Stephen's artistic works have been uncertain since Stephen and Gwen Huneck's passing in 2008 and 2013 respectively. We are thrilled to announce that in November of 2017, Friends of Dog Mountain received ownership of the Dog Mountain property, the majority of Stephen's remaining original art, and the Stephen Huneck Gallery!
We are delighted to have reached this critical milestone and are deeply appreciative to Gwen's brother, Jon Ide, and niece, Ali Ide, for working so closely and graciously with FODM over the past 2+ years to develop and find a long-term solution for Dog Mountain, The Dog Chapel, and Stephen's art. We are fortunate and pleased that Ali Ide will remain in her leadership role with the Gallery.
While the transfer of land and art has been an almost singular focus for FODM over the last 2+ years, there have been a host of other positive developments at Dog Mountain made possible by support from people just like you! Many of our visitors commented on the improved upkeep of Dog Mountain's grounds and trails; there is much more work to do, but it is a great beginning! The new agility course on the lower fields has been seeing a lot of very impressive use. Dog Mountain took first place in USA Today's 2017 Reader's Choice Awards for
Best Vermont Attraction
. We are so honored that so many of you voted to make this happen!
And in addition to offering our much-loved dog parties and other annual events that have become staples at Dog Mountain, we are proud to have partnered with Catamount Arts and LevittAMP to host the St. Johnsbury LevittAMP Concert Series again in 2018. The series is comprised of ten free, dog-friendly summer concerts that was a tremendous success (check out all the terrific pictures here). We hope to repeat the partnership again in 2019, so if you missed the series in 2018, keep an eye out for a possible 2019 series!
Looking Ahead:
With disposition of the Huneck's estate now settled, we can confidently set about achieving our long-term vision and mission. Our 2018 Annual Campaign will support the transition – and the enormous responsibility that comes with it -- to owning and stewarding the Dog Mountain property and Stephen's art while also developing plans and strategies that will lead to long term financial sustainability for Dog Mountain.
In the short run, donations to the 2018 appeal will assure Dog Mountain remains free and open to the public throughout the year. Your support will also assure that Dog Mountain continues to offer our annual dog parties and associated events, including -- with some luck! -- partnering with Catamount Arts to host the LevittAMP St. Johnsbury Concert Series at Dog Mountain again in 2019.
Your donations also set the stage for our long-term success by supporting planning and resource development for future capital-intensive investments, including critical and long overdue repairs to Dog Mountain's grounds and facilities; cataloging, protection, and preservation of Stephen's works of art; and establishment of a multi-year development plan for future success and sustainability of Dog Mountain.
Help Us Realize Our Vision for Dog Mountain's Future!
Please join us on the road ahead! We are counting on your generous support to keep Dog Mountain a free, public space and to preserve Stephen's incredible art for future generations to enjoy and appreciate!
Donate Today: Donate to FODM in your own name, in memory of a beloved pet, or as a gift for a fellow pet lover. Donate online or send directly to: Friends of Dog Mountain, PO Box 4575, 143 Parks Road, Saint Johnsbury, VT 05819
Check Your Employer's Matching Program: Many larger companies have programs for matching charitable donations made by their employees. You can also check the Double the Donation website which is a clearing house for several employer-based matching programs.
Purchase from the Stephen Huneck Gallery: Please keep the gallery and online store in mind for holiday and other gift giving. Browse our collection of Stephen Huneck original art, giclee prints, books, and other assorted gifts for the art and dog lovers in your life!
Help Spread the Word: Please "like" us on Facebook, share our Facebook posts and information!
To make a tax-deductible donation to Dog Mountain, click the button below.
To keep Dog Mountain open and free of charge, we depend on the generosity of donors like you. Donations are deeply appreciated, and every dollar will go to help sustain and support Dog Mountain. Please help Dog Mountain survive – and thrive!
Thank you for reading, and we hope to see you on Dog Mountain!
---
If you prefer to donate via check, make the check out to "Friends of Dog Mountain" and mail to:
Friends of Dog Mountain
143 Parks Rd.
St. Johnsbury, VT 05819
Thank you!
Funding for Dog Mountain's preservation and transition to nonprofit ownership was made possible in part with a Rural Business Enterprise Grant from USDA Rural Development