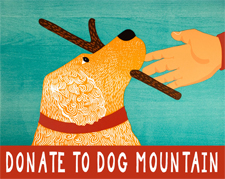 An Important Appeal from Friends of Dog Mountain 2016
Dear Friends,
Thanks to wonderful friends like you, 2016 has been a really exciting year for our non-profit, Friends of Dog Mountain. We're making great strides in our mission to preserve Dog Mountain for dogs and dog-lovers everywhere and to steward the important artistic contributions of my late brother-in- law, Stephen Huneck.
It's been three and a half years since my sister, Gwen Huneck, passed away and I became administrator of her estate. Dog Mountain's future was hanging by a thread back then and for much of the time since. But now we've got a firm foundation and the future looks bright. We're building something that can last.
Early in 2015 we formed a nonprofit organization, Friends of Dog Mountain (FODM). FODM is dedicated to preserving and sustaining everything at Dog Mountain: Dog Mountain's uniquely beautiful 150-acre home, the Dog Chapel, the Stephen Huneck Gallery, and the wonderful, joyful art of Stephen Huneck. With your help, FODM's goal is to make Dog Mountain and Stephen's art available in perpetuity.
Some highlights from 2016:
FODM was awarded a $75,000 grant from the USDA that's given a huge boost to our efforts to build out FODM as the owner-operator of Dog Mountain and steward of Stephen's artwork. And thanks to your generosity, we raised the $26,000 in matching funds required by USDA. Thank you for that!
We added new board members and convened a three-day planning retreat in Burlington in July.
We're putting the finishing touches on an organizational structure and action plans for the coming year, and we look forward to sharing details with you in 2017.
Dog Mountain took top honors in USA Today's Reader's Choice Awards for Best Dog Friendly Tour or Activity. We couldn't agree more... and it warmed our hearts that so many of you agreed!
In partnership with our good friends at Catamount Arts in St. Johnsbury, we're a finalist to get funding for a series of 10 free, dog-friendly outdoor concerts in 2017.
Thanks to our wonderful staff at Dog Mountain and online, things are firing on all cylinders, and our Dog Parties are bigger and better than ever!
We hope you'll join us on the road ahead. In fact, we're counting on you! We have big plans for 2017 as we continue to put the pieces in place. We need to make critical repairs to Dog Mountain's grounds and facilities, establish a multi-year development plan, build organizational capacity, research and identify grants that can help us achieve our vision, and begin the formidable and costly task of cataloging, protecting, and preserving Stephen's works of art. That's quite a list!
To achieve all that, we need your help:
Make an End-of-Year Donation: Please help us realize our vision for Dog Mountain by making an end-of-year tax-deductible donation to Friends of Dog Mountain. Make a donation in your own name, on behalf of someone on your holiday gift list, or in remembrance of a beloved pet. To make your donation to Friends of Dog Mountain please

click here

.
Check Whether Your Employer has a Matching Program: Many larger companies have programs for matching charitable donations made by their employees. To double your donation, check here to see if your employer is among those that match.
Support the Stephen Huneck Gallery: Please keep the gallery and online store in mind for you holiday gift giving. Browse our collection of Stephen Huneck original art, Giclee prints, books, and other assorted gifts for the art and dog lovers in your life. As a non-profit, FODM is unable to support the gallery directly, so your help is needed to keep the doors open.
We're deeply thankful for all of you in our extended Dog Mountain family. Part of the magic of Dog Mountain stems from the love and support you all bring to it. We wouldn't have made it through the last three and a half years without your help, and for that we're forever grateful.
Now, on to 2017! Together we can protect and steward Dog Mountain and Stephen's art for generations to come.
Heartfelt thanks to you all!
Sincerely,
Jon Ide
Friends of Dog Mountain
Listen to
NPR's "All Things Considered" piece
on Dog Mountain