Stephen Huneck and his wife Gwendolyn Ide Huneck devoted much of their adult lives to Dog Mountain, the Stephen Huneck Gallery, and the Dog Chapel. They are both gone now – Stephen in 2010, Gwen in 2013 – but their words remain the best encapsulation of the mission and spirit of their work. What follows is an introduction written by Gwen after Stephen had passed away, followed by Stephen's own Mission Statement for the Dog Chapel, written in 2000.
Introduction by Gwendolyn Huneck
Stephen first wrote The Dog Chapel Mission Statement in 1997, when the Dog Chapel was merely an inspiration in his mind's eye. In 2000, against all odds, Stephen's dream came true. In 2000, he revised his mission statement and explained what had inspired him to conceive and eventually build The Dog Chapel. Stephen often said, "Dream Without Limits," and dream he did. The Dog Chapel's walls are now covered with thousands upon thousands of Remembrances of Dogs Loved and Lost. It is a tremendously moving sight.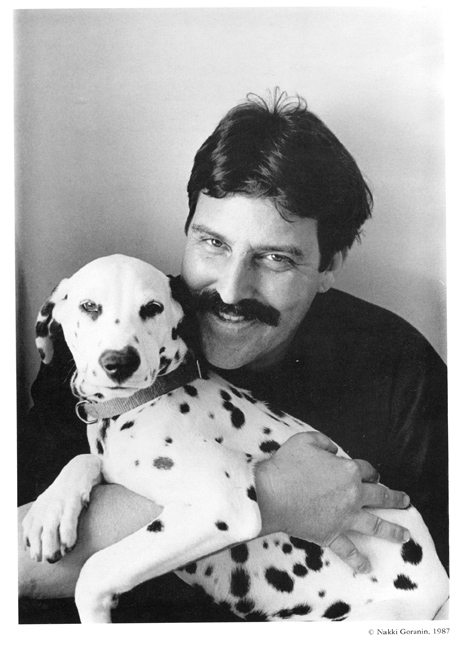 I believe Stephen accomplished what he set out to do with flying colors! He wanted to help us honor animals as the feeling, spiritual beings they are and to also help us all find closure and healing. The Dog Chapel is a tranquil, sacred space to meditate with your dog as well.
Remember:
WELCOME ALL CREEDS, ALL BREEDS, NO DOGMAS ALLOWED!
Let's not forget Stephen's other dream for Dog Mountain. That it be a place where hundreds of dogs and people could find Joy, Love, and Friendship by hiking the miles of trails, enjoying the swimming pond for dogs and the breathtaking views. He wanted everyone to take a break and allow themselves to be silly, playful and childlike (of course that comes naturally to dogs and children!).
Smell the flowers! Breathe the air! Listen to the songbirds. It is splendid to be out in Nature on our own little piece of heaven.
IN STEPHEN'S HONOR AND MEMORY, AND WITH YOUR HELP, I PLEDGE TO KEEP THE DOG CHAPEL AND DOG MOUNTAIN OPEN AND FREE FOR ALL TO ENJOY, ESPECIALLY DOGS, FOREVER.
With love and gratitude, Gwendolyn Huneck
---
Dog Chapel Mission Statement
By Stephen Huneck
"Several years ago, I became seriously ill. It came out of the blue - Adult Respiratory Distress Syndrome, an often fatal illness. I was in a coma for two months, and the doctors gave me little chance of survival. My wife Gwen refused to believe that I was not going to make it. They were very concerned for her. She slept on the floor of the hospital to be close to me at night, and spoke to me while I was in the coma. This made a deep impression on the doctors and nurses. Once the doctors told her I was passing away and doubted I would make it through the night. They told her they were very sorry and had tried everything. Well, that night I did stop living for about five minutes. I had a profound experience.
I came out of the coma about two weeks later, to everyone's surprise, except Gwen's. I had an amazingly strong recovery - I was 45 years old and had to learn to walk again (quite a humbling experience). But I must say the near-death experience, combined with what my wife taught me about love, and the appreciation I felt toward the most basic things we all take for granted had a profound effect on me. As an artist, I share the feelings I have with others through my art. One day, not long after I was back home with my wife and three dogs, a wild idea just popped into my mind (a frequent thing, but after several weeks had gone by, this one was still there). I have found that in the case of a wild idea popping into my mind, then building a sort of nest made of twigs of supporting ideas, I should give it some serious thought. And, the more I thought about it, the more I realized it was something I simply had to do.
I wanted to build a chapel, one that celebrated the spiritual bond we have with our dogs, and that would be open to dogs and people. People of any faith or belief system. I built that chapel on Dog Mountain, our mountain-top farm in St. Johnsbury, Vermont. I have styled it in the manner of a small village church built in Vermont around 1820. It is important to me that the chapel looks like it belongs with its setting of rolling mountains and pasture. The white steeple points up to the heavens, and on the top is a Lab with wings that turns in the wind and proclaims this place has a special affinity with dogs. As you walk inside the chapel you will be bathed in the light of my stained glass windows. Dog carvings surround you, music plays, all reaffirming the connection between art, nature, and spirituality. I look at this chapel as the largest artwork of my life, and my most personal. It is my desire to make this a place both magical and transforming.
When you visit us, walk the land and enjoy the spectacular views yourself. This is a very private spot. Being on the end of a dead-end road where all the land on both sides of the road are part of Dog Mountain. The 150 acre mountain-top farm is rich with wild life and trout filled ponds. I have created a beautiful light-filled gallery, where of course, dogs are always welcome. There will always be a good supply of treats on hand, a small gesture to thank dogs for all they give us and for connecting us to nature, something that is getting more difficult in our high tech, paved over world. Everyone is welcome at Dog Mountain, but it is my hope that dog owners will bring their dogs with them. It is a wonderful experience to go on a walk with your dog through an old forest, you will see how the dog becomes fully alert as your guide and protector. Here, they have no doubt who is the leader."
Reach us at:
Stephen Huneck Gallery
143 Parks Road
St. Johnsbury, VT 05819
800-449-2580