Dog Mountain Venue Locations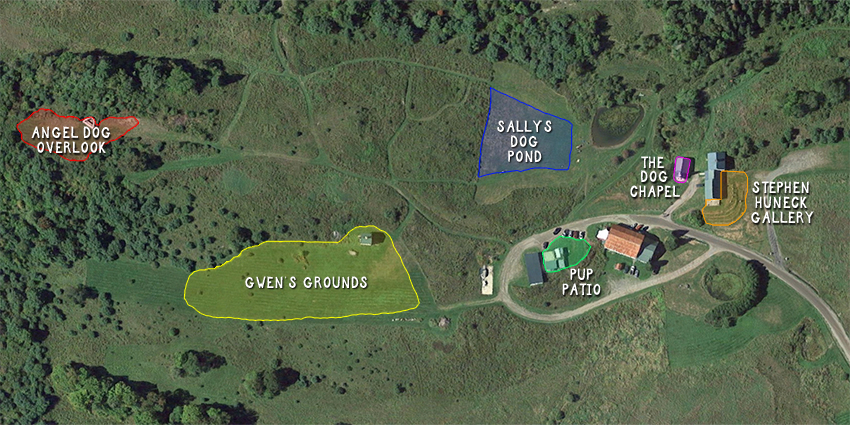 ---
Angel Dog Overlook
Price: $$
Capacity: 150
Recommended Events: Weddings, renewals, engagements, elopements, memorials.
Located at the peak of Dog Mountain, the Angel Dog Overlook offers sweeping panoramic views of the Vermont mountains. A stunning and serene location to hold a wedding or ceremony.
---
Gwen's Grounds
Price: $$$
Capacity: 1,500
Recommended Events: Large weddings, receptions, corporate events, reunions, fundraisers, dog breed events, parties, concerts.
Dog Mountain's largest venue space. With sweeping panoramic views, it's a beautiful location to hold any large event.
---
Sally's Dog Pond
Price: $$
Capacity: 350
Recommended Events: Parties, reunions, dog-specific events.
Our upper dog pond is smack dab in the center of all the Dog Mountain action. With unspoiled views of the rolling hillside, Dog Chapel, and Stephen Huneck Gallery, this location is perfect for dog-friendly events.
---
Pup Patio
Price: $
Capacity: 100
Recommended Events: Reunions, receptions, cookouts, parties.
Interested in a Dog Mountain cookout? Dog Mountain's Pup Patio comes equipped with tables, chairs, and two 8-burner event grills available for your use.
---
The Dog Chapel
Price: $$
Capacity: 50
Recommended Events: Weddings, memorials, ceremonies.
The Dog Chapel is adorned with dog-themed pews, sculptures, and stained glass windows. It is covered from floor to ceiling with the heartfelt remembrances of beloved pets. The Dog Chapel is a unique and moving place to hold a ceremony.
*Maximum one hour rental. Handicap accessible.
---
Stephen Huneck Gallery
Price: $
Capacity: 125
Recommended Events: Receptions, parties, reunions.
The Gallery Patio and surrounding lawn is a perfect place to hold a small event with easy access to both The Dog Chapel and Stephen Huneck Gallery.
*Handicap accessible.