Levitt AMP St. Johnsbury Music Series at Dog Mountain!
June 28, 2017
Catamount Arts has released the long-awaited lineup for this summer's free live music series at Dog Mountain. The Levitt AMP St. Johnsbury Music Series will take place at Dog Mountain every Sunday evening from July 9th through September 17th, and will feature a diverse lineup of musicians from all over the country.
Concert Series Lineup

July 9, 2017

The Series opens on July 9th with Washington, DC's hottest jazz act, Chaise Lounge, with opener Thea Wren. Chaise Lounge performs a blend of music evocative of Capitol Recording Studios in the swinging sixties. Billed as "equal parts dry wit and dry martini," the quintet plays sparkling arrangements of big band standards and original tunes lit up by the luminous vocals of Marilyn Older.

July 16, 2017

Longtime Vermont favorite Brett Hughes will open on July 16th for Sarah Shook & the Disarmers, an outlaw country band with a sneering bite and no apologies. Shook's original songs take on relationships gone wrong, bad decisions, cruel ironies, and a healthy dose of self-deprecating sarcasm. Backed by guitar, upright bass, and pedal steel, Sarah Shook & the Disarmers were named one of "ten new country artists you need to know" by Rolling Stone.

July 23, 2017

Psychedelic funksters Evolfo return to St. Johnsbury on July 23rd with opening act Electric Sorcery. Mainstays of New York City's clubs and DIY spaces, Brooklyn's Evolfo is a house-shaking mix of garage rock, psychedelic soul, spiritual funk, and ecstatic freakout. Like die-hard record store crate-diggers, Evolfo breathe new life into old-school grooves to create a sound that's down and dirty with grit and glory.

July 30, 2017

St. Johnsbury's own Ana D'Leon will open for the Seratones of Shreveport, Louisiana, on July 30th. The Seratones' Southern garage rock sound is a product of Shreveport's unique and fertile sonic landscape, where Memphis soul, Mississippi Delta blues, New Orleans jazz, and Texas swing all meet. NPR praised singer AJ Haynes's Baptist Church-grown voice, and calls the Seratones' sound "lean and compact, with an impressive assortment of anthemic stompers."

August 6, 2017

Perhaps the Northeast Kingdom's busiest band, Tritium Well opens on August 6th for acclaimed Los Angeles group, Incendio. Incendio performs original genre-defying "world guitar" compositions that feature Latin, Middle Eastern, and Celtic grooves. Averaging over 150 shows annually since 2000, Incendio's live performance is an explosive improvisational journey, showcasing the timeless, evocative sound of the Spanish guitar and stirring hearts worldwide.

August 13, 2017

On August 13th, 35th Parallel will open for Montreal and Kentucky-based neo-folk rock ensemble HuDost. HuDost's original work ranges in style from "alternative world music" to their self-dubbed "country-and-eastern" fusion, and incorporates an eclectic blend of influences ranging from traditional Sufi music to Balkan folk to Southern gospel. HuDost blends exotic chants, bold guitar licks, and ancient sounds to build a sonic bridge across cultures and time.

August 27, 2017

Local Celtic music celebrities, The Catamount Pipe Band, will open on August 27th for Prydein, producers of a bagpipe-infused blend of ska, funk, and rockabilly sometimes called (wait for it) sham-rock. Festival favorites nationwide, Prydein deliver a hardcore, high-energy performance known for drawing fans of all ages. Raging on pipes, whistles, electric guitars, and thumping percussion, Prydein's sound is triumphant, infectious, and irresistible.

September 3, 2017

Brazilian folk and bluegrass stars Matuto will take the stage September 3rd, with opening act, Buzzkill Abby. Matuto's signature brand of rollicking drums and quicksilver accordion licks, described as Appalachia-gone-Afro-Brazilian, merges sultry samba grooves and countrified funk, drawing listeners out of their seats and onto the dance floor. Chicago Tribune calls Matuto's music, "joyous, ebullient, (with) seductively cross-cultural appeal."

September 10, 2017

Ira Friedman will open on September 10th for contemporary jazz fusionists, The Lao Tizer Band. Driven by an explosive mix of jazz, rock, classical, jam band influences, Afro-Caribbean and world rhythms, this multicultural band led by Boulder, Colorado native Lao Tizer tours festivals worldwide. Their live performances are known for thrilling improvisation, tight technical prowess, and bold arrangements, earning them a devoted fanbase beyond traditional jazz circles.

September 17, 2017

The NEKtones will open for the final act of the music series on September 17th, featuring headliners The High and Mighty Brass Band. HMBB mixes R&B, hip-hop, Afro-beat, and New Orleans funk. Guitars and full drum sets create an explosive sound that distinguishes HMBB from other brass bands, allowing them to carve out a lively, celebratory niche in New York City's competitive music scene, and making them a natural choice for the 2017 Levitt AMP St. Johnsbury Music Series finale.
Thanks to the Mortimer and Mimi Levitt Foundation and many generous community sponsors, every concert in the 2017 Levitt AMP St. Johnsbury Music Series at Dog Mountain is FREE.
The free concerts are open to all ages, and dogs are welcome. Concerts run from 4 to 7pm every Sunday evening from July 9th through September 17th. There will be a variety of food vendors and a beer tent on-site. For more information, visit concerts.Levitt AMP.org/stjohnsbury.
Thank you for your support! You make Dog Mountain possible!
With love and gratitude,
The Dog Mountain Pack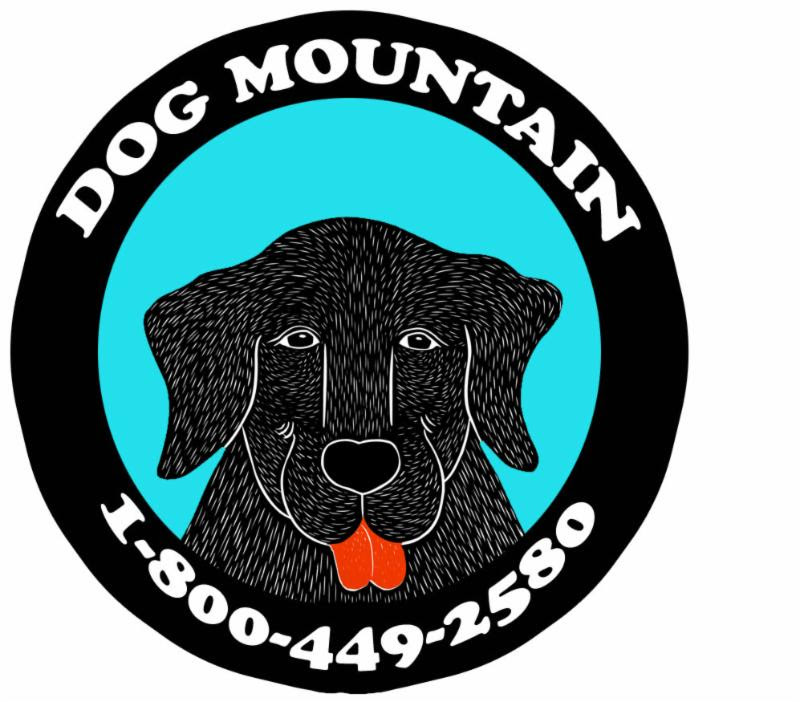 ---
Founders Celebration Dog Party!
June 6, 2017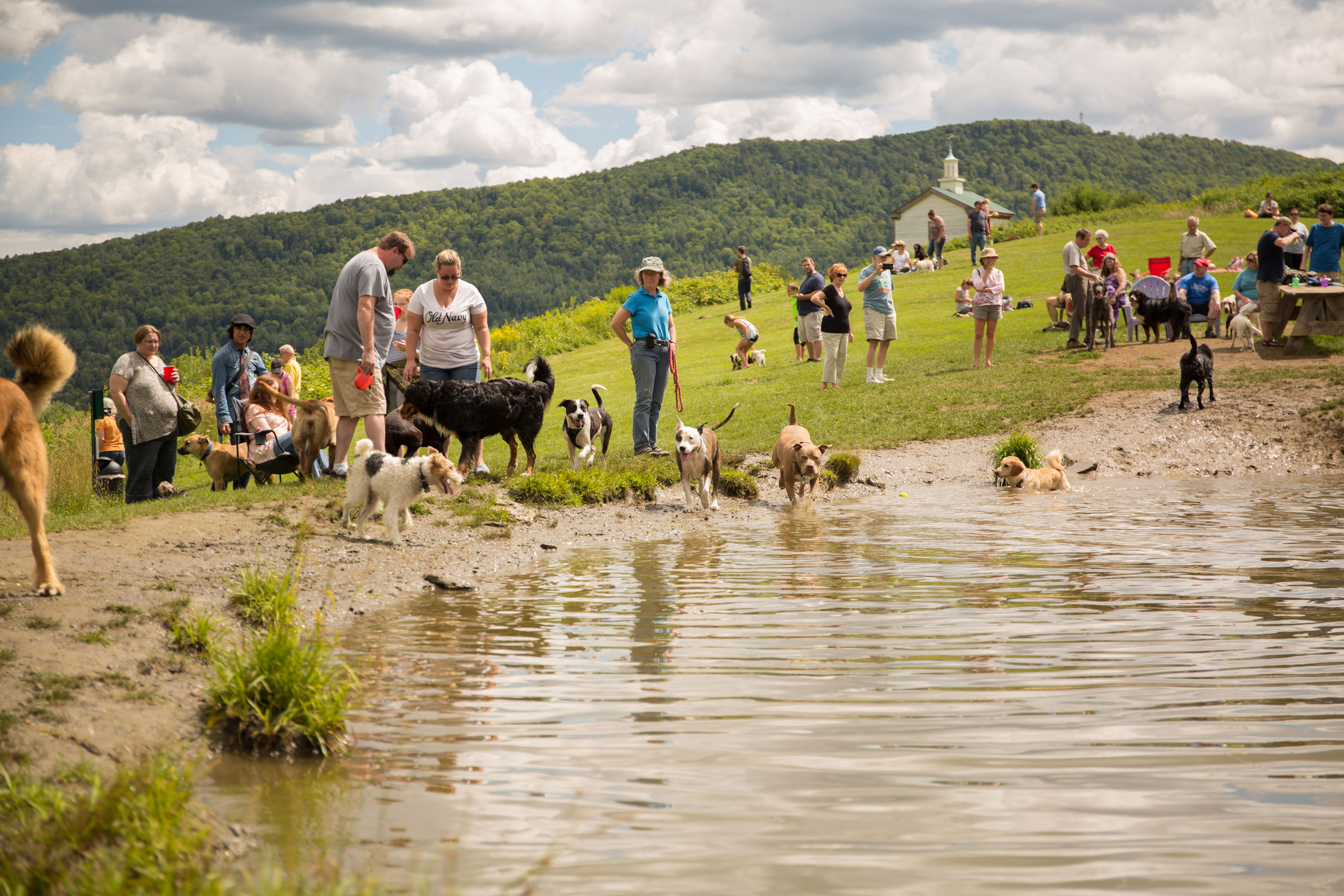 Stephen Huneck Gallery and Friends of Dog Mountain invite you to a dog party to celebrate the life and loves of Dog Mountain founders, Stephen and Gwen Huneck.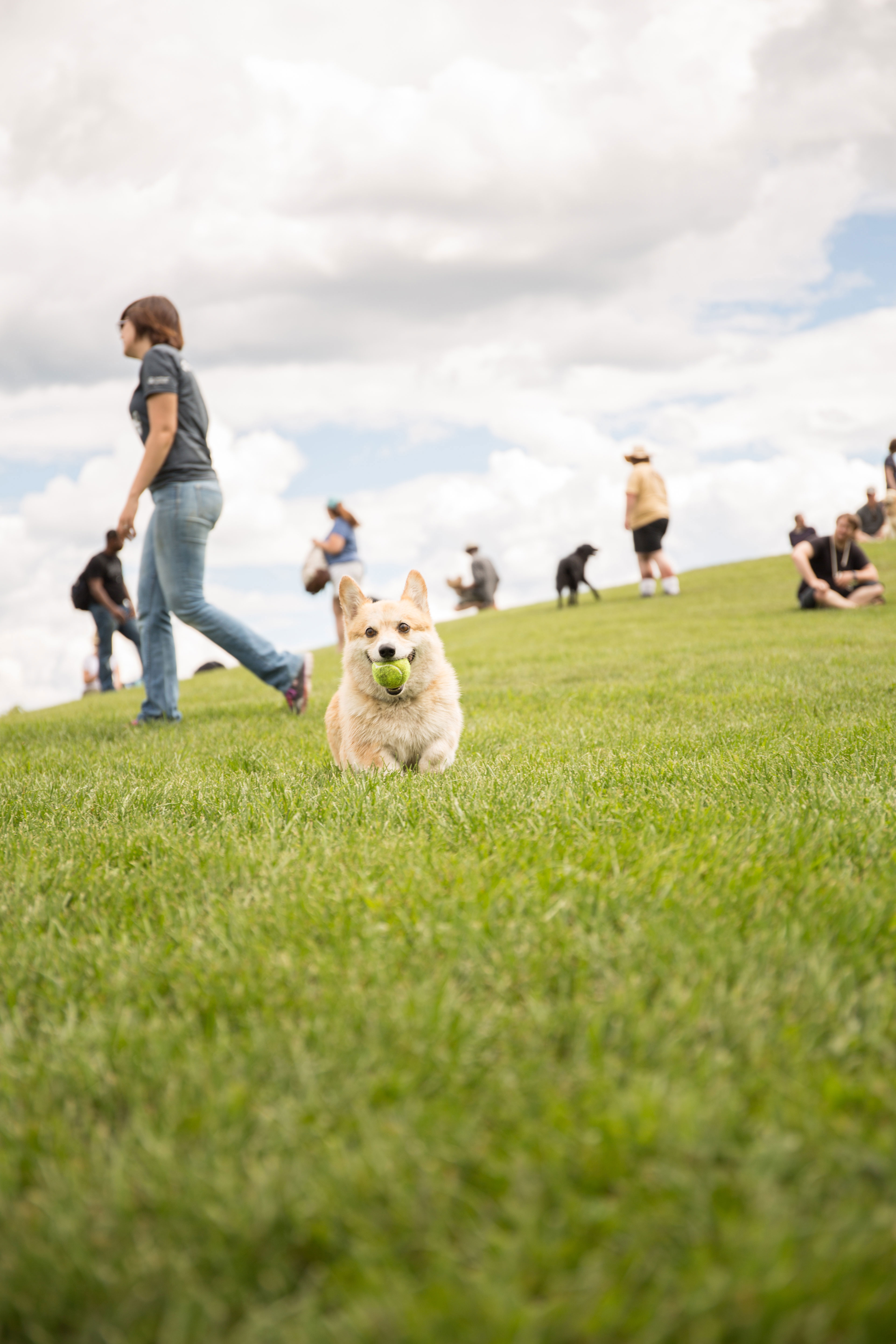 Come and celebrate with us on Saturday, June 10th from 12pm-4pm! If you have dogs, bring them. If you don't, come anyway!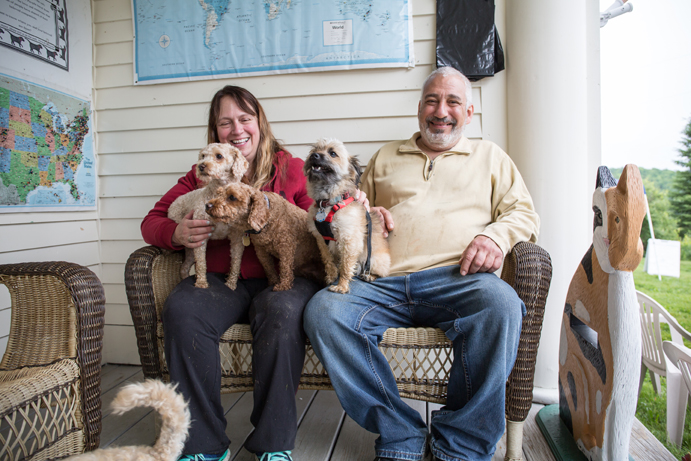 With fun-filled events planned and plenty of room to run, romp, and play, visiting families and their dogs can enjoy Dog Mountain's open leash policy from the hills, ponds, and pastures to the whimsical art gallery.
There will be activities for all ages:
The event is free to the public and will be held rain or shine at The Stephen Huneck Gallery on Dog Mountain.
To help support future Dog Parties on Dog Mountain please consider a donation to Friends of Dog Mountain.
Or, if you would like to donate an hour or two of your time to help out at the party, please fill out a volunteer form Here.
Thank you for your support! You make Dog Mountain possible!
With love and gratitude,
The Dog Mountain Pack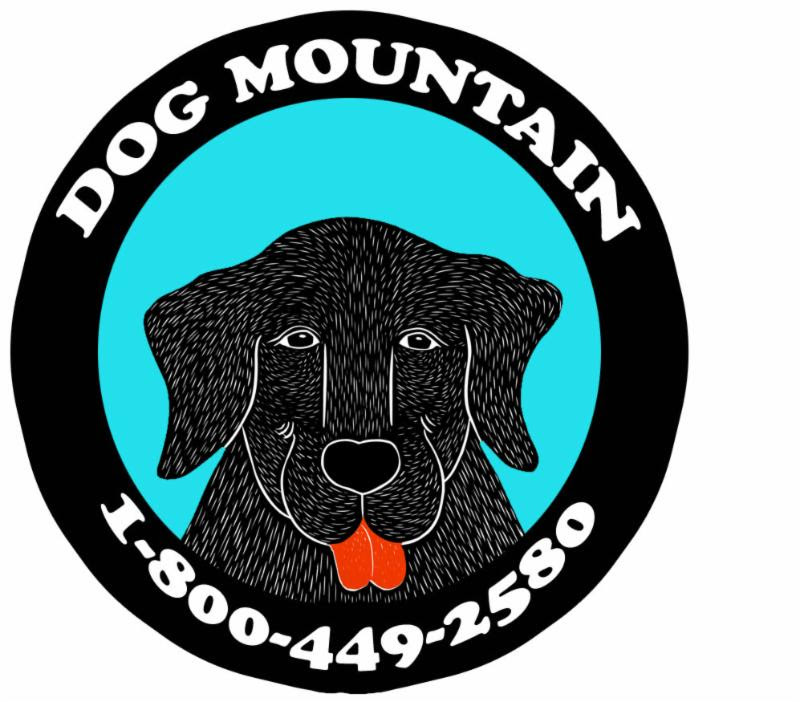 ---
Golden Jubilee Recap!
May 25, 2017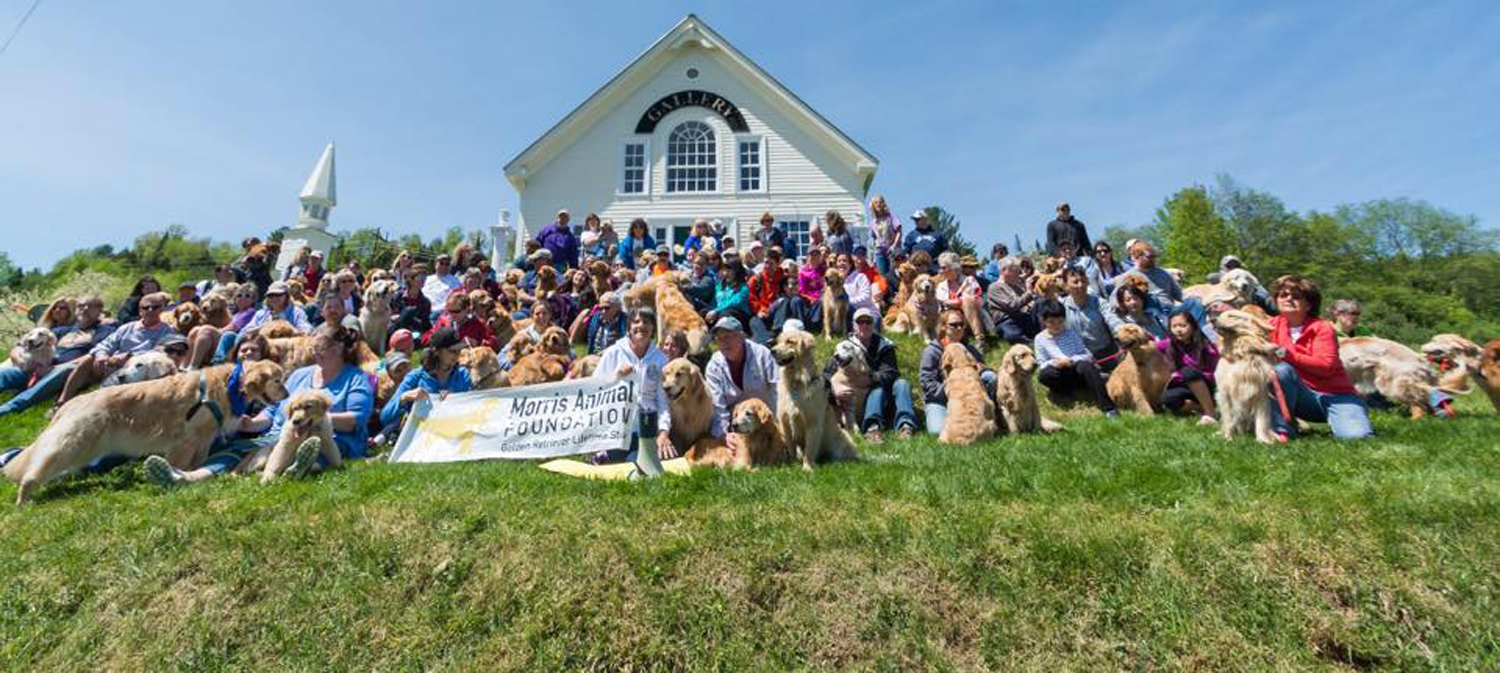 What a brilliant and GOLDEN weekend! Wonderful people, happy dogs, and extraordinary weather all made the 2017 Golden Jubilee one for the books!
With over a hundred Golden Retrievers and 200 people in attendance, it was truly a sight to behold. So many happy, smiling faces – human and canine alike!
Thank you, Sandra Lok and Linda Hadwen for sharing your beautiful photos with us. Looking at them all, we can't stop smiling either!
Thank you to Sandra Lok and her family for organizing such a fantastic event to help promote and sustain support for the
Morris Animal Foundation Golden Retriever Lifetime Study
.
Dog Mountain is always so honored to host these types of dog-friendly and dog-positive parties and events.
Thank you to everyone who came!
We can't wait to see you all again next year!
Thank you for your support! You make Dog Mountain possible!
With love and gratitude,
The Dog Mountain Pack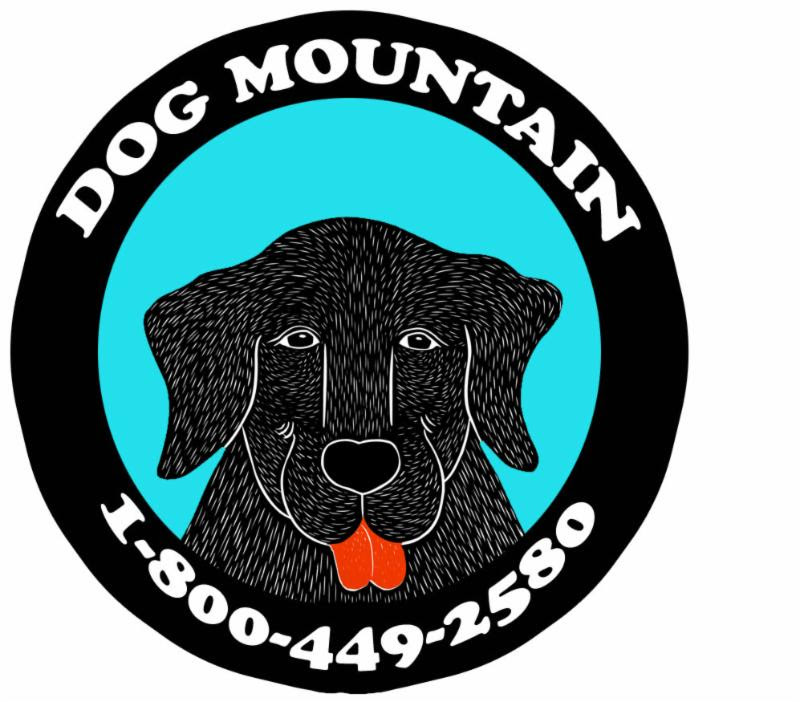 ---
Greetings from Dog Mountain
May 17, 2017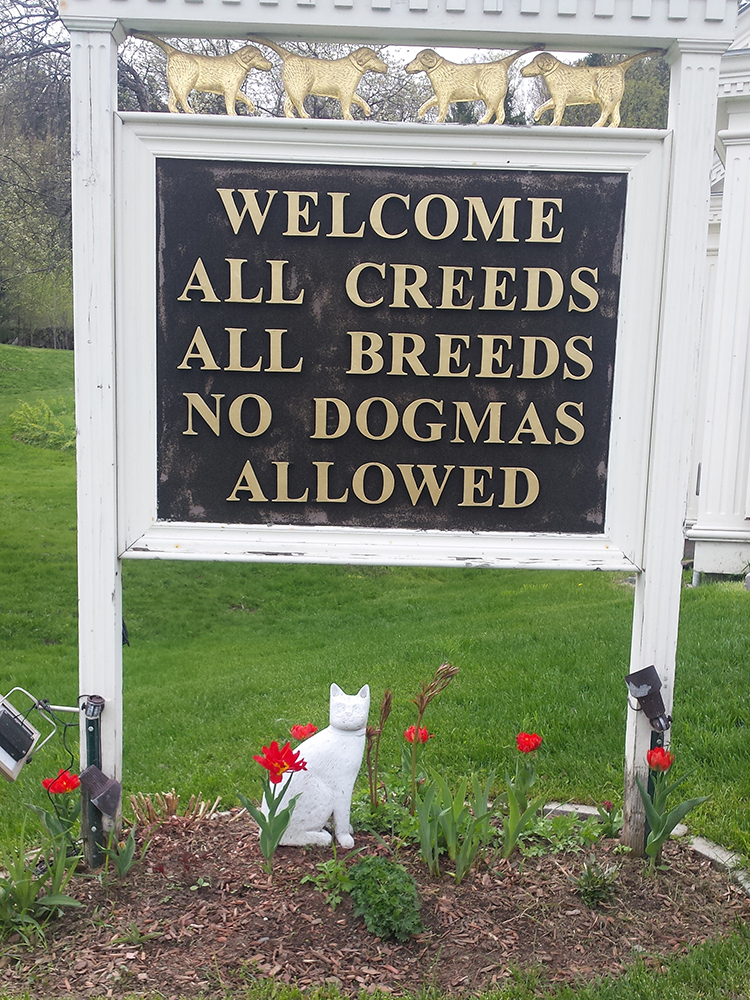 Summer's just around the corner and Dog Mountain is starting to look the part.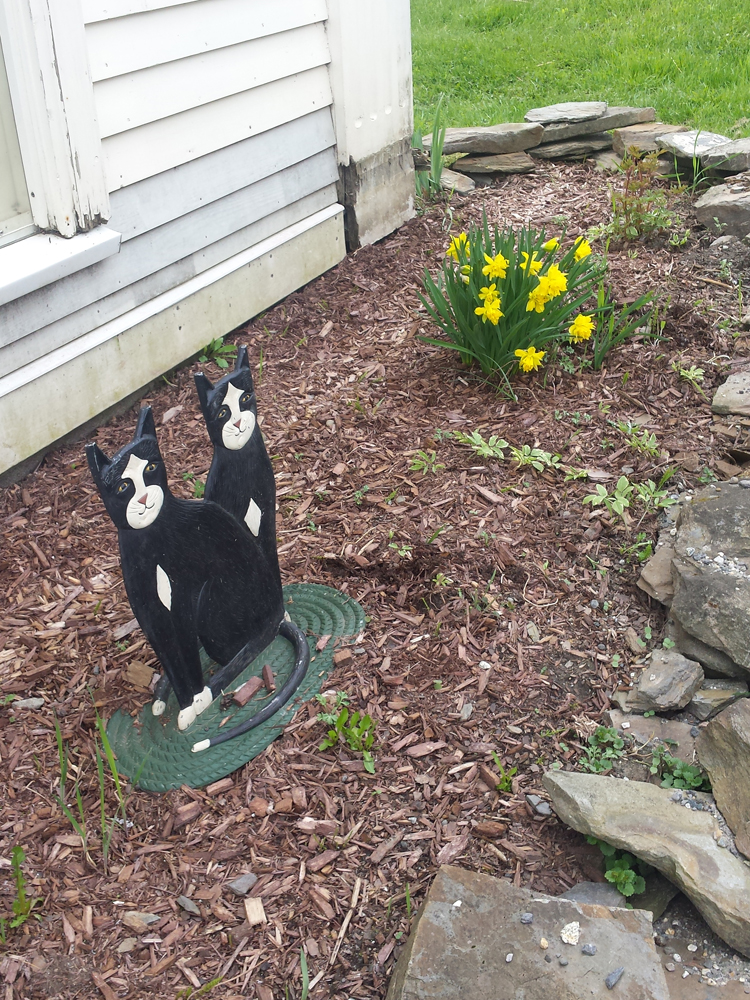 Flowers are popping up everywhere and visitors are loving the warm weather.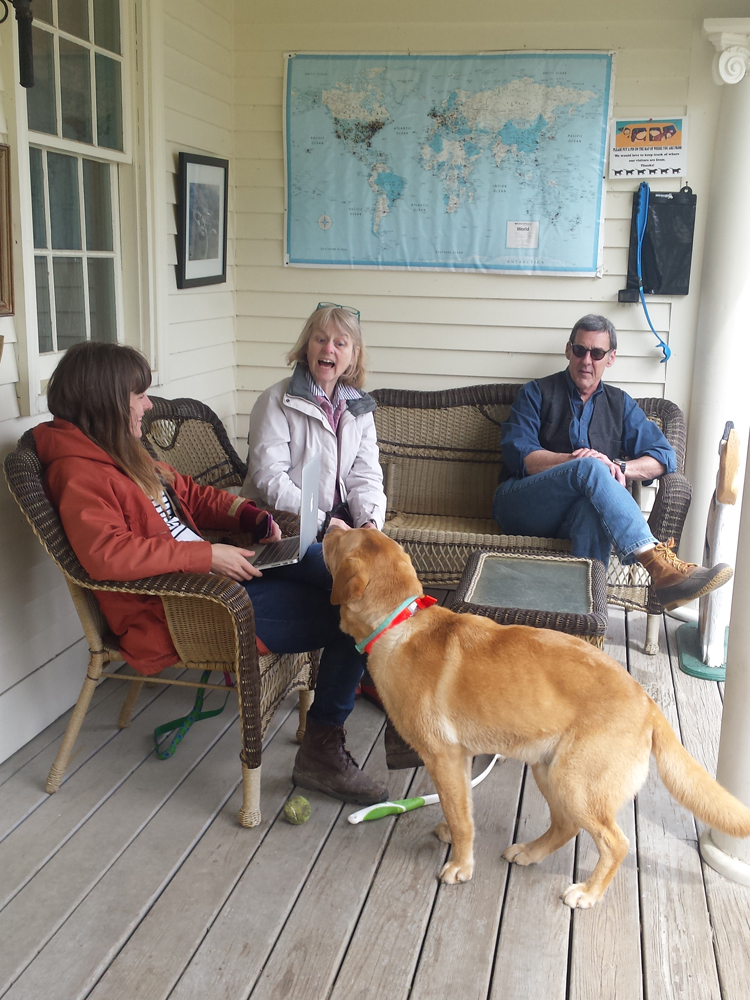 Stop by the gallery to visit for a while before heading out on the trails with your pooch!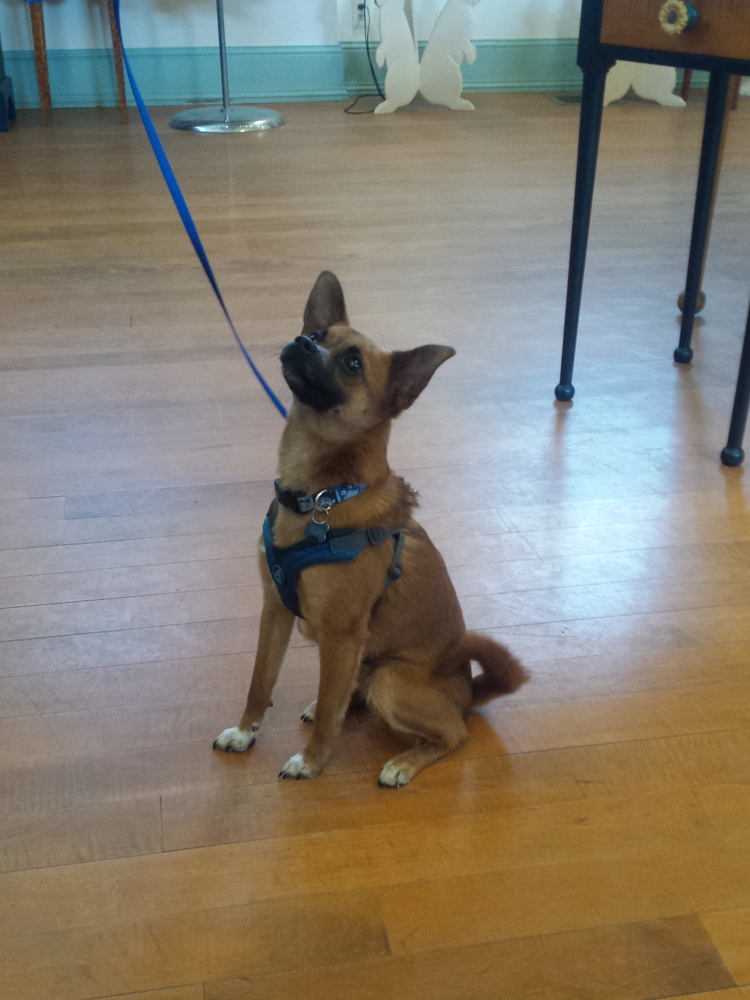 2017 Golden Jubilee: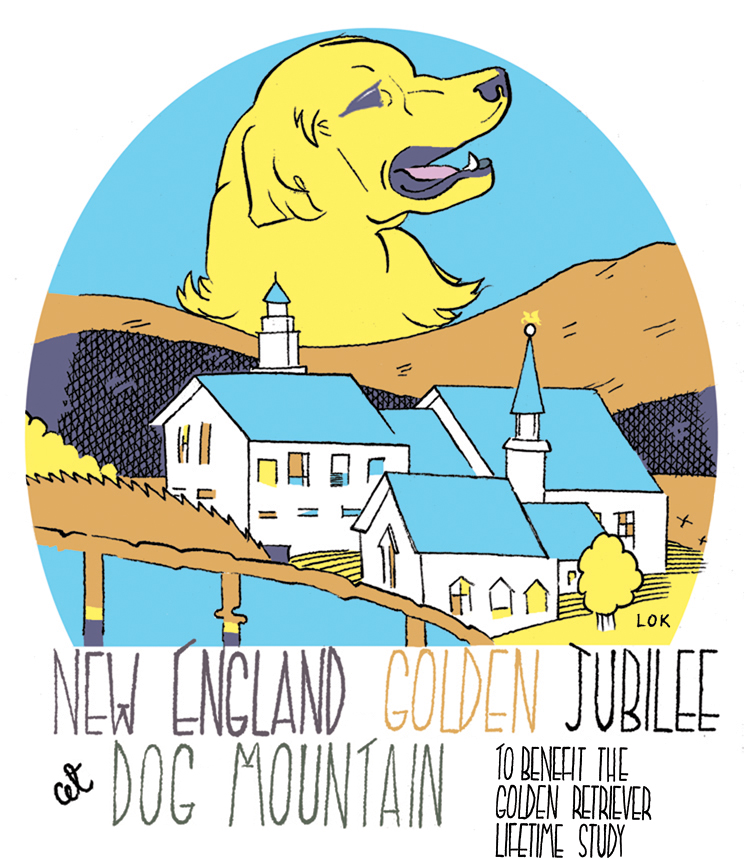 Come one, come all for the 3rd annual New England Golden Jubilee this Saturday at Dog Mountain!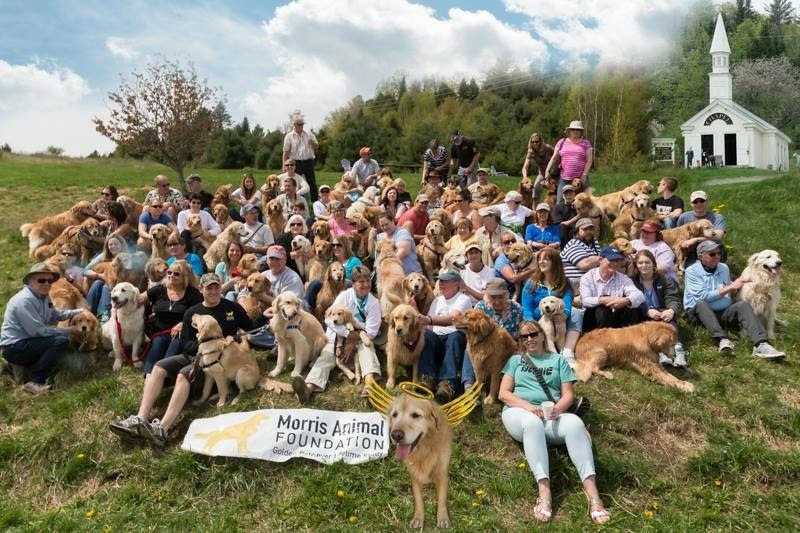 There's nothing better than a gaggle of Goldens! And, with as many as 90 dogs expected, it's sure to be one for the books! The event takes place May 20th, from 10am-5pm.
Learn more about it here
.
Thank you for your support! You make Dog Mountain possible!
With love and gratitude,
The Dog Mountain Pack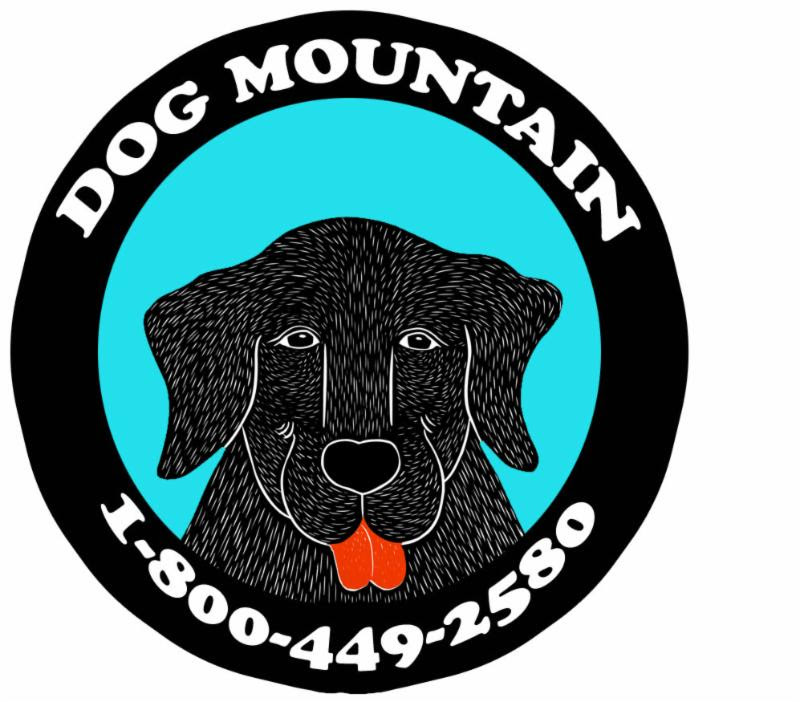 ---
Greetings from Dog Mountain
May 6, 2017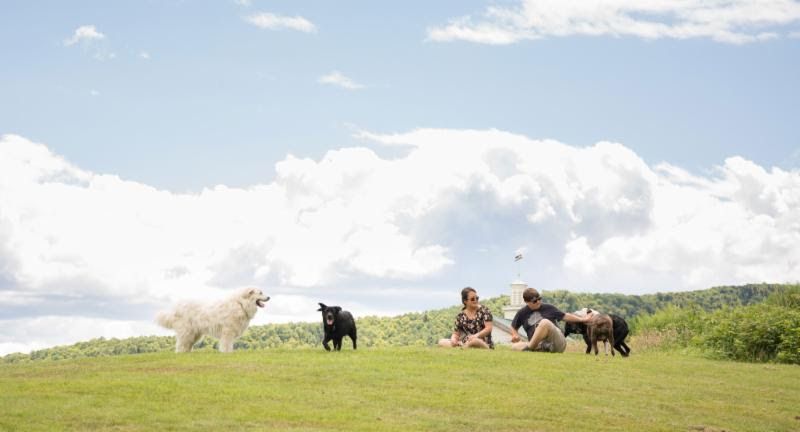 Dog Mountain is officially ready for summer! Warm weather is here to stay. And, after last weekend's Labor of Love event, the Dog Mountain grounds are looking renewed, refreshed, and better than ever!
Labor of Love Recap:

Our Labor of Love Event was a smashing success!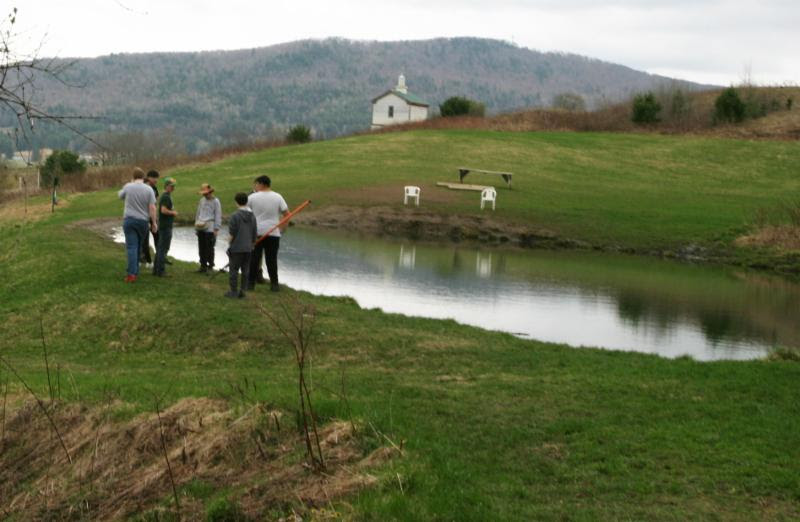 Volunteers and staff worked tirelessly to clean up, clear out, and brighten up the grounds for all the upcoming summer visitors.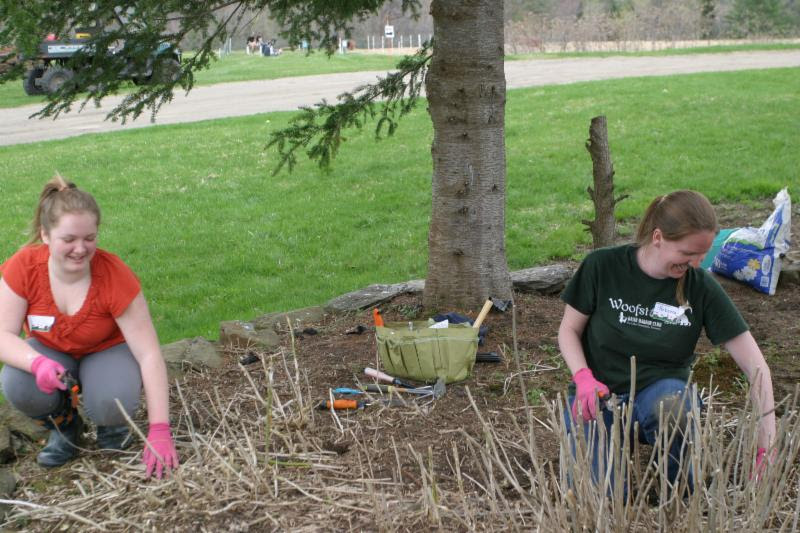 And thanks to our volunteers, and a generous donation from longtime dog mountain fan, we now have a new agility course in place!

A beautifully scenic spot was chosen for the new course. It has already become a treasured addition to Dog Mountain.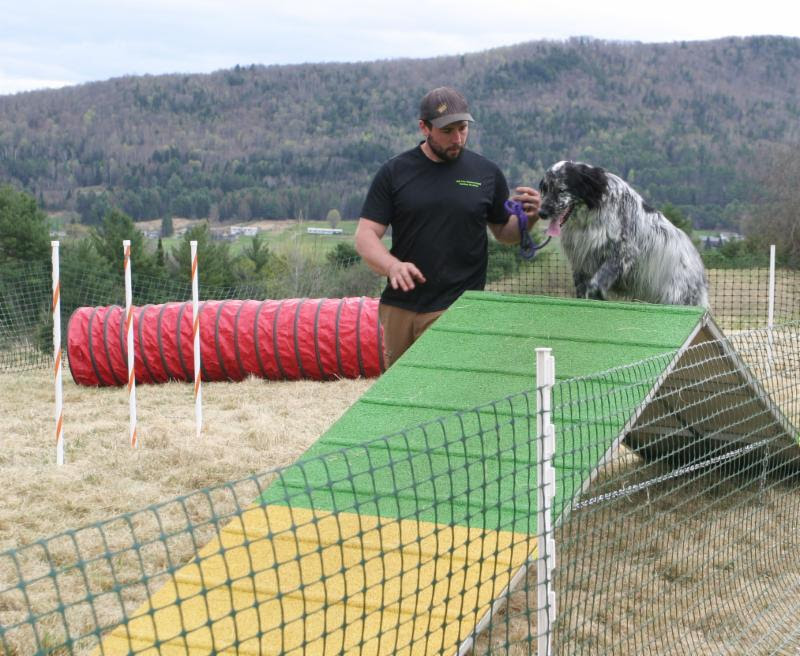 A special thanks to Susan Ohlidal,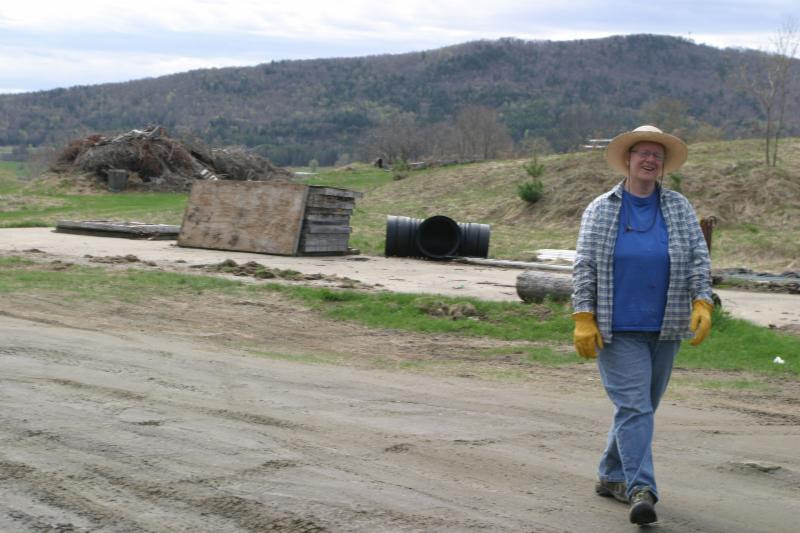 Jeff Scarpino and Off the Beaten Trail canine trainers, and all of the other wonderful volunteers.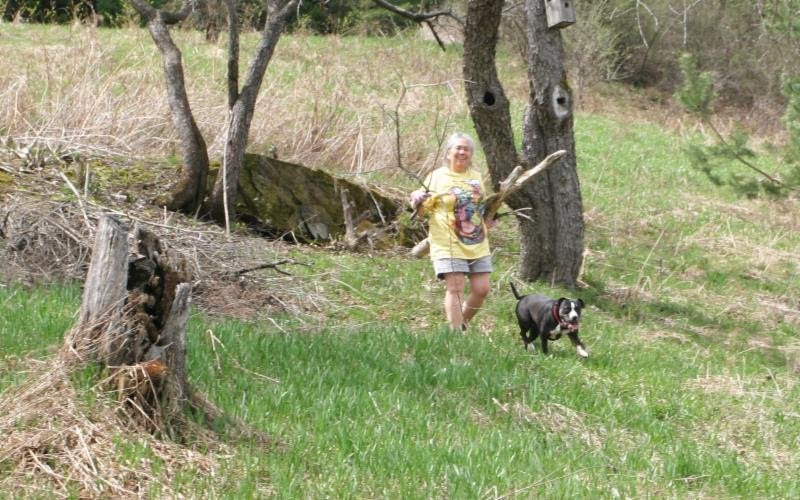 The level of love and dedication they showed to Dog Mountain was absolutely inspiring.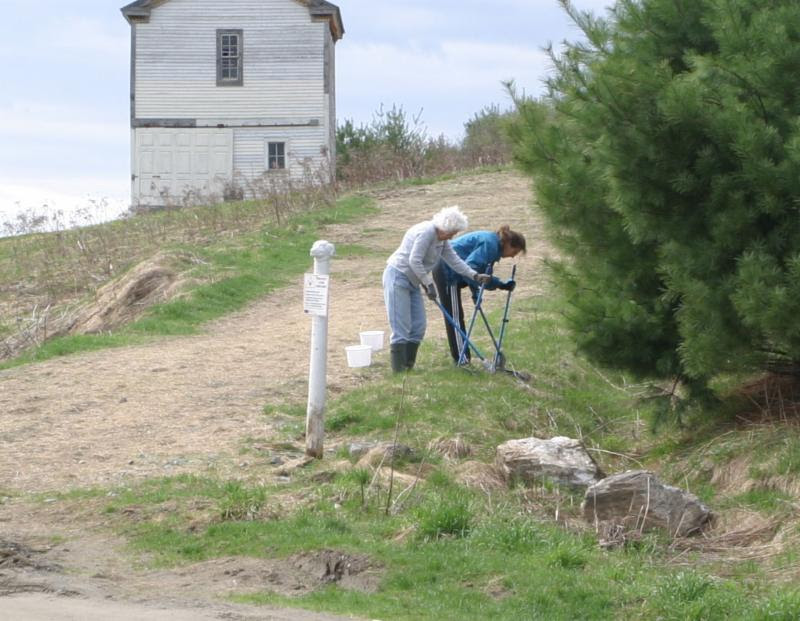 Thank you, thank you, thank you!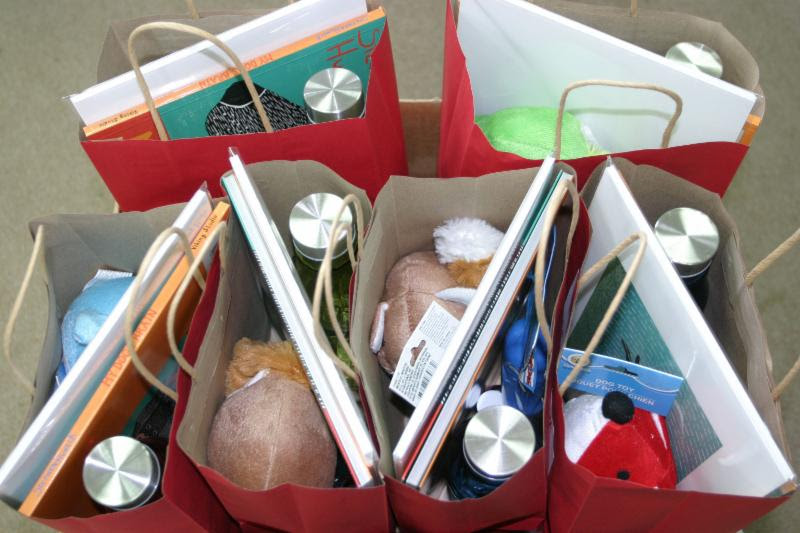 Labor of Love Goody Gift Bags
If you couldn't make it to the Labor of Love Event last weekend but would still like to help out Dog Mountain, please let us know!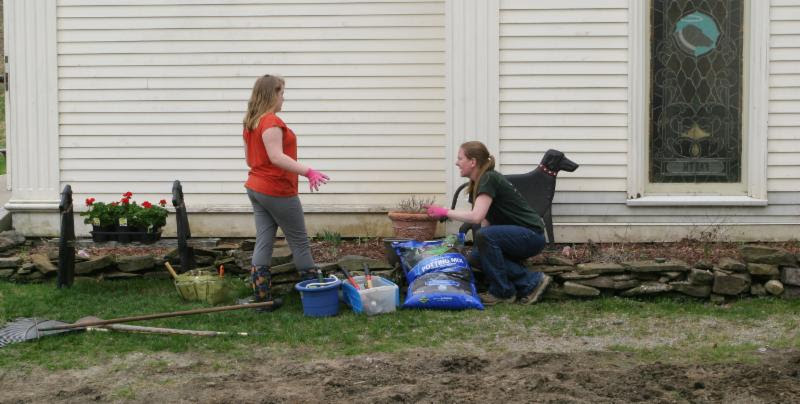 We are looking for volunteers all summer long for a variety of tasks including gardening, maintenance, and dog party help.
Want to help in another way? Please consider making a one-time or recurring donation to our non-profit: Friends of Dog Mountain.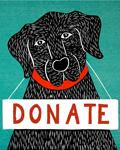 Every donation goes toward helping Dog Mountain build a strong and sustainable future!
Thanks again to all the helping-hands for making this year's gathering another memorable experience!
Dog Mountain in Bloom:
We are excited to offer new Seedles Seed Bombs & Wildflower Seed Ball packets in the Gallery!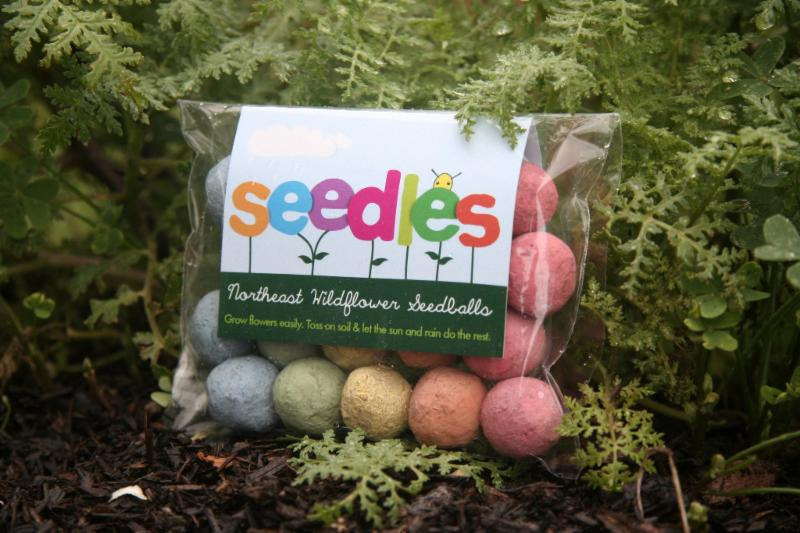 Now you can help Dog Mountain grow the rainbow this season!
Seedles are rainbow bright balls of seed, compost, and clay. All you have to do is throw them and grow them.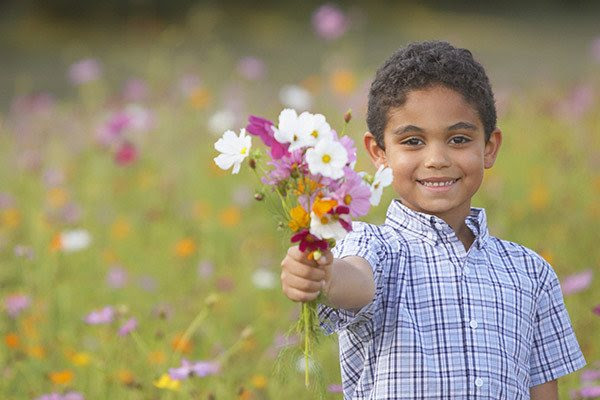 The Seedles packets are for sale in the gallery and can be scattered all over Dog Mountain! The flowers they grow will help encourage and propagate the dwindling bee population. Good for the bees, good for Dog Mountain, and good for the earth.
More Dog Mountain Dog Training Classes: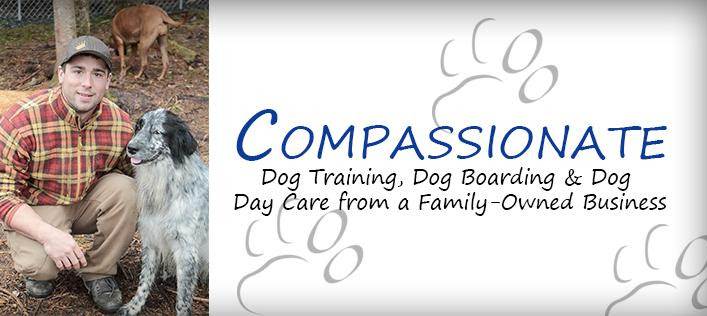 We are excited to welcome back Off the Beaten Trail for more dog training classes at Dog Mountain. The new schedule is out! If you and your pup are interested in participating, please contact Jeff and Gillian Scarpino at offthebeatentrailvt@gmail.com for more information.
Puppy Class - Tuesdays 5:30pm-6:30pm May 23rd-June 27th (6 Weeks)
Canine Good Citizen Class - Tuesdays 6:45pm-7:45pm May 23rd-June 27th (6 Weeks)
Basic Obedience - Wednesdays 5:30pm-6:30pm May 24th-June 14th (4 Weeks)
Leash Walking and Impulse Control - Wednesdays 6:45pm-7:45pm May 24th-June 14th (4 Weeks)
Agility Course - Sundays 10:00am-11:00am June 4th-July 23rd (8 Weeks)
Thank you for your support! You make Dog Mountain possible!
With love and gratitude,
The Dog Mountain Pack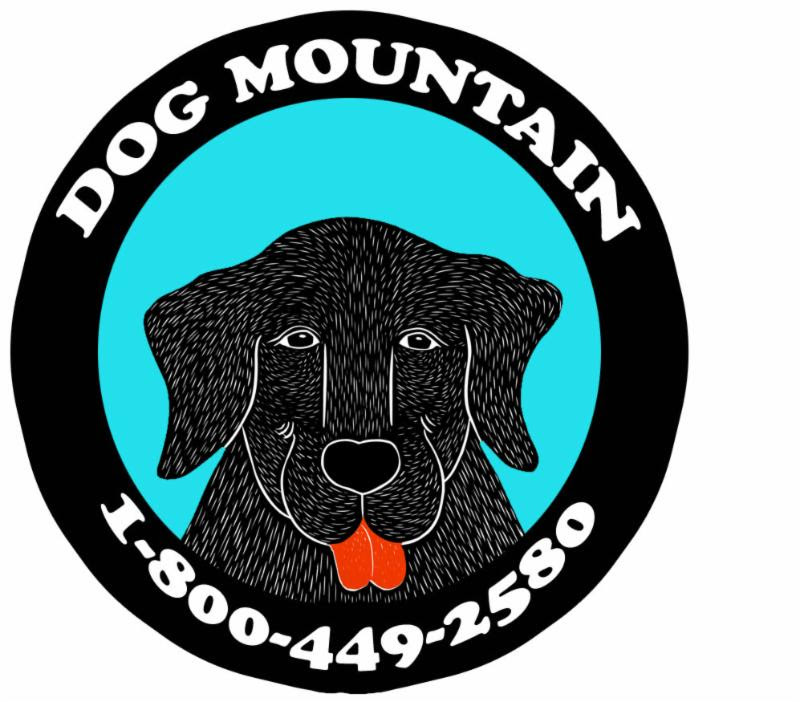 ---
Greetings from Dog Mountain
April 17, 2017
We are basking in the spring sunshine these days at Dog Mountain!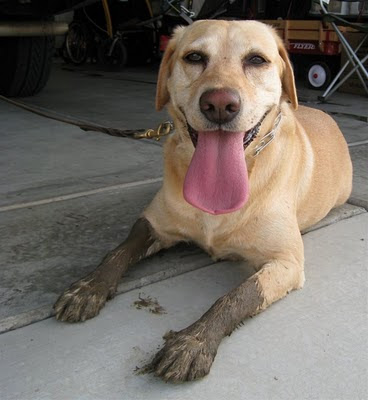 Tails are wagging, paws and boots are muddy, and there are lots of smiling faces coming through the gallery doors.
So much to look forward to in the warmer months ahead and we can't wait to tell you all about it!
Labor of Love Weekend:
Join us on April 29th and 30th for Dog Mountain's annual party of repair, renewal, and restoration!

The Labor of Love Event is the perfect chance to volunteer your time, talents, and sweat to help prepare Dog Mountain for the busy summer season.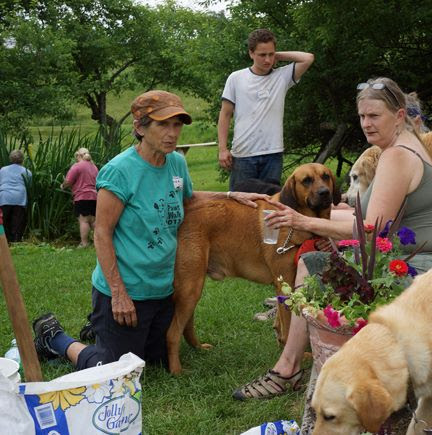 This year we'll be rebuilding our doggy agility course!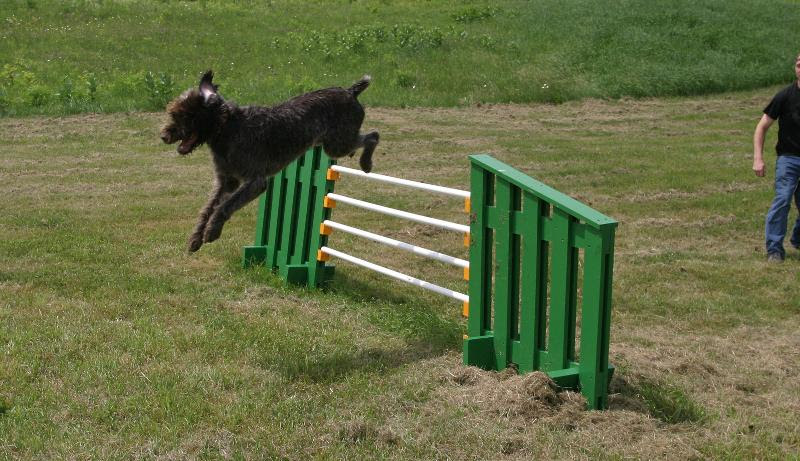 Some of you longtime fans may have fond memories of Dog Mountain's old agility course. Well, it's finally time to bring it back!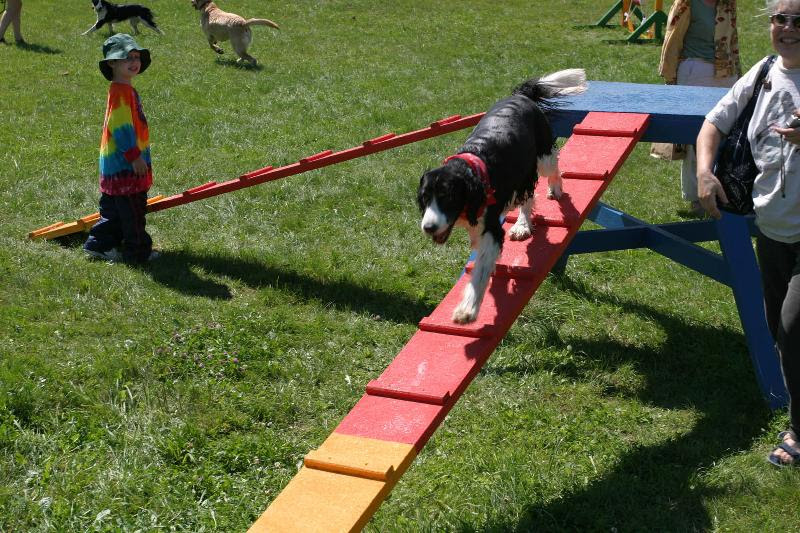 To volunteer for the Labor of Love weekend, please fill out our volunteer form here.
And, if you can't make the event this year, please know that Dog Mountain is always in need of volunteers for a variety of tasks throughout the year like gardening, painting, carpentry, trimming, mowing, trail maintenance, and Dog Party help. If you're interested in chipping in, please let us know!
Thank you for your support! You make Dog Mountain possible!
With love and gratitude,
The Dog Mountain Pack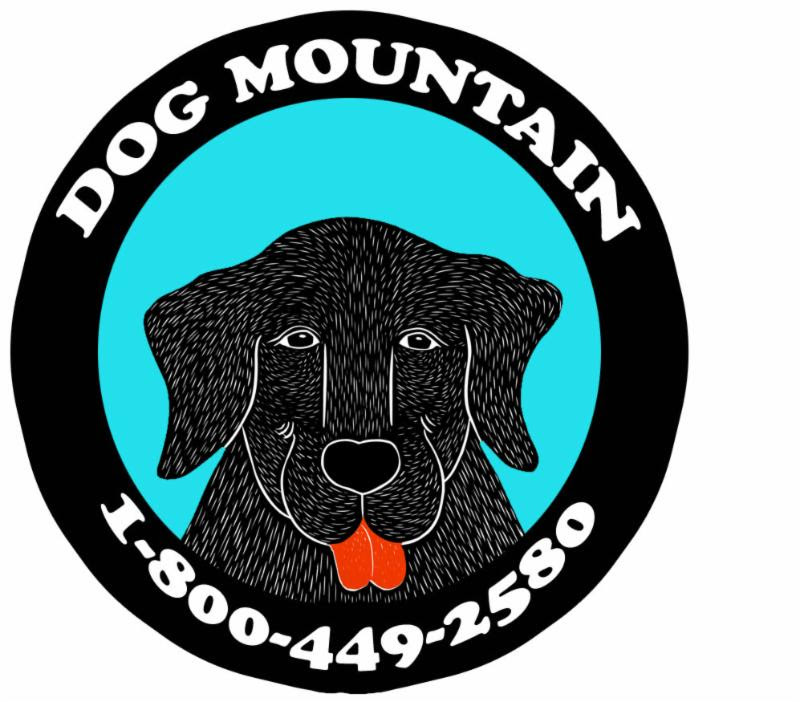 ---
Greetings from Dog Mountain
April 6, 2017
Lots of sun and warmer temperatures this week on Dog Mountain (finally!)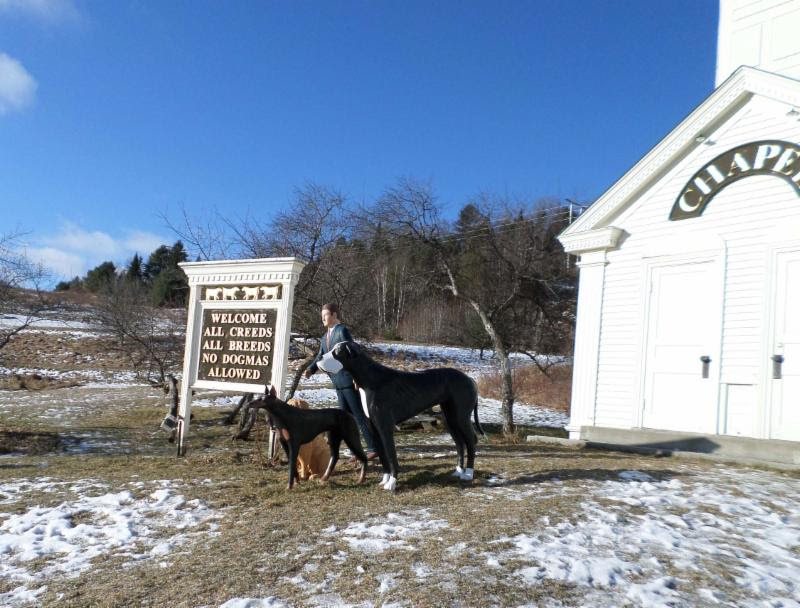 Snow is melting, and you know what that means... MUD SEASON!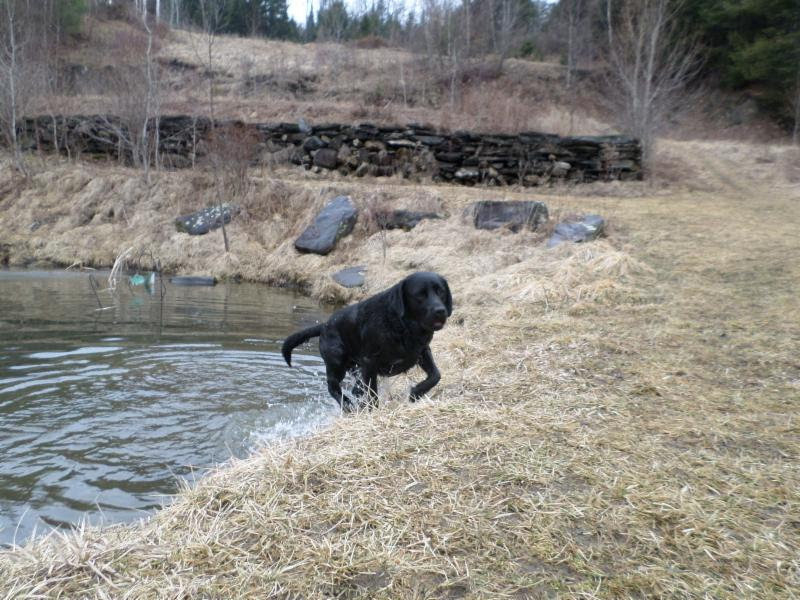 Muddy paws and happy dogs galore. Make sure to wear some boots when you visit!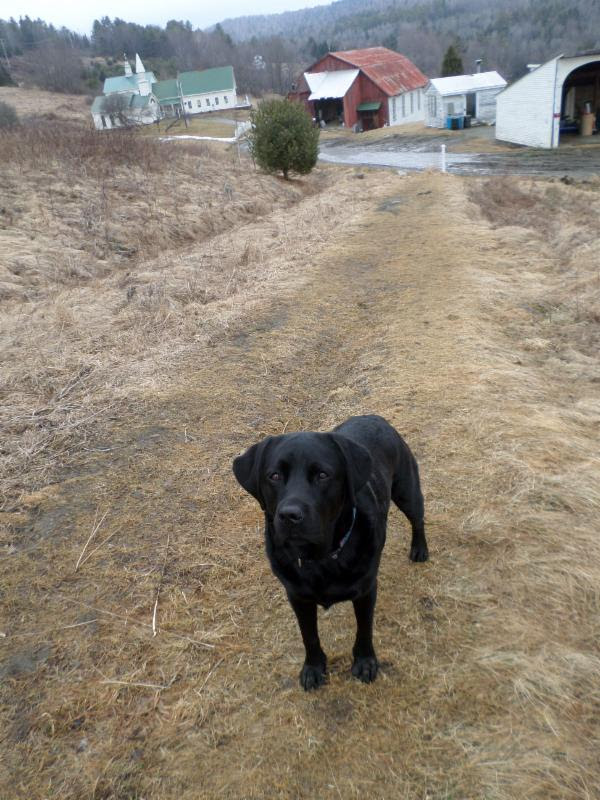 Labor of Love Weekend Event!
Our 5th Annual Labor of Love Volunteer Event is fast approaching!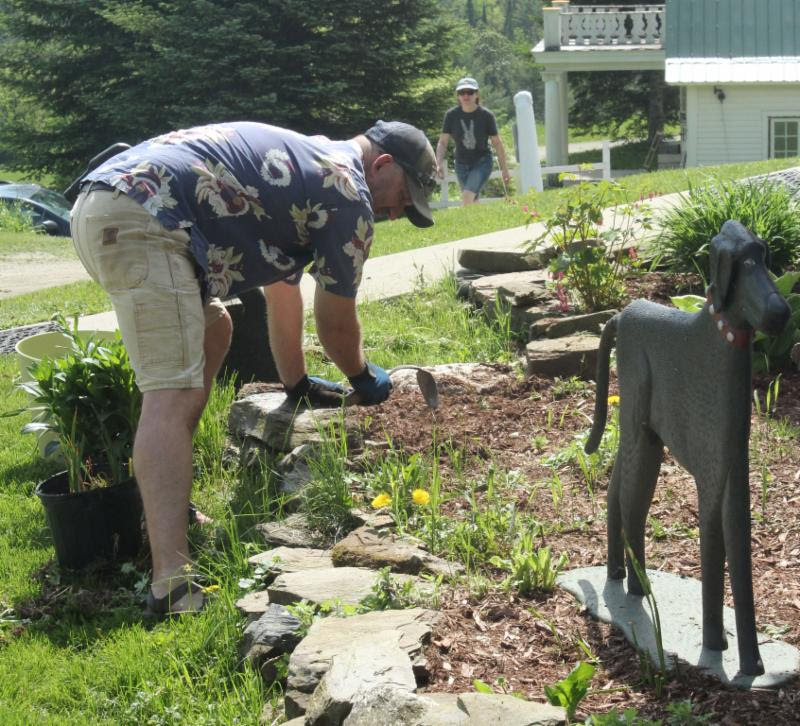 On April 29th and 30th we invite friends of Dog Mountain to volunteer their time, talents, expertise, and sweat to throw Dog Mountain a party of repairs, maintenance, and general sprucing up.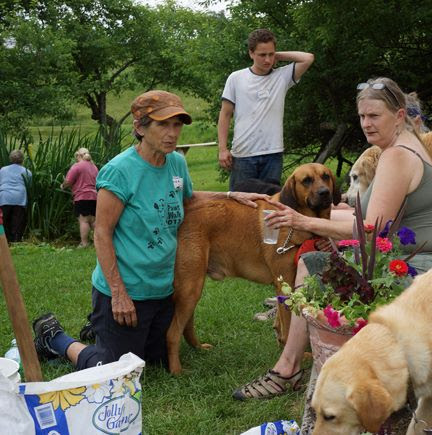 It's a chance for all of us to honor Stephen and Gwen's legacy and give back to the mountain that's given us all so much.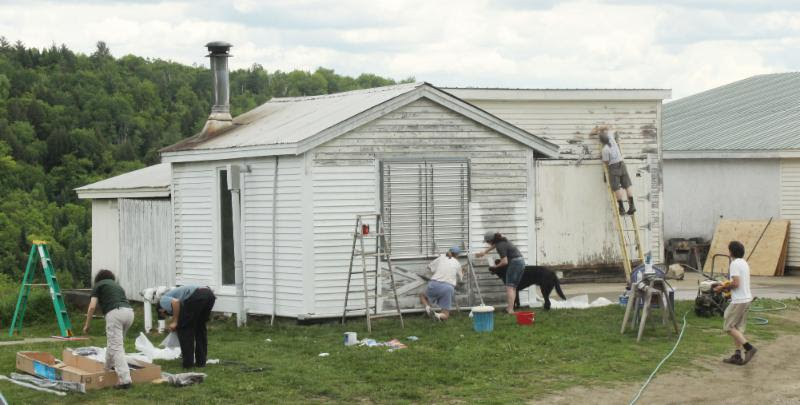 If you're planning on coming, please go to our Volunteer page and fill out the form to tell us a little about yourself, your interests and skills!
News from the Gallery:
This past weekend we had a wonderful visitor in the gallery.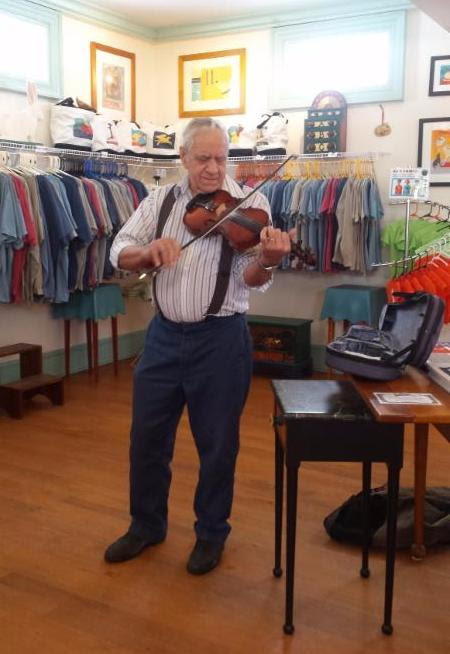 Paul Daniels is a dairy farmer from East Albany, NY who stopped by Dog Mountain on his way to a St. Johnsbury event where he was playing with the local bluegrass band.
This was Paul's first visit to Dog Mountain and we were so lucky to have him give us an impromptu violin performance right in the gallery! Our wonderful gallery manager, Pam McCann, even stepped in to provide vocals!
Thank you, Paul, for the for the memorable musical treat!
Thank you for your support! You make Dog Mountain possible!
With love and gratitude,
The Dog Mountain Pack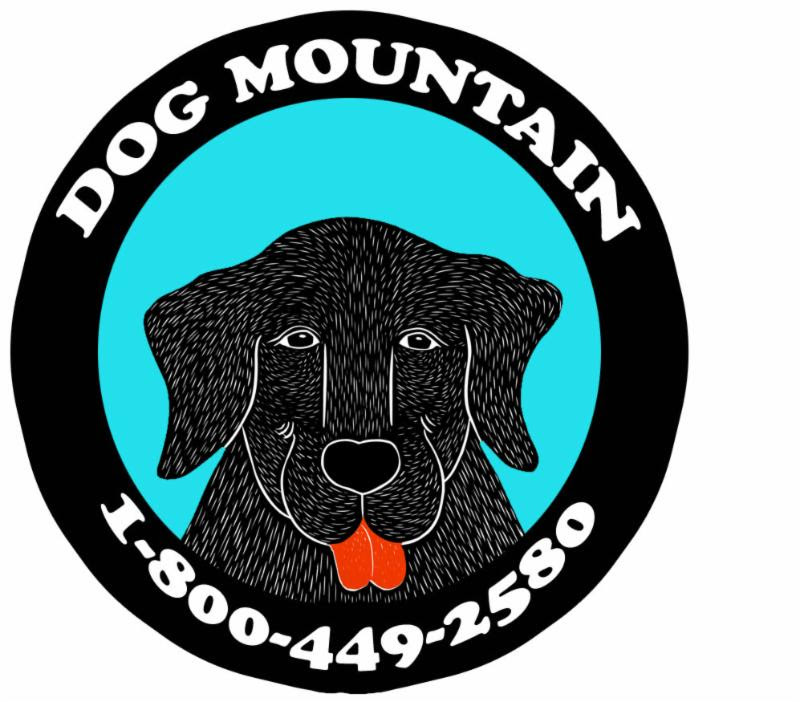 ---
Greetings from Dog Mountain
March 2, 2017
Join us on Saturday, March 11th from noon-8pm for a birthday celebration and bonfire in honor of Dog Mountain's beloved mascot, Sally!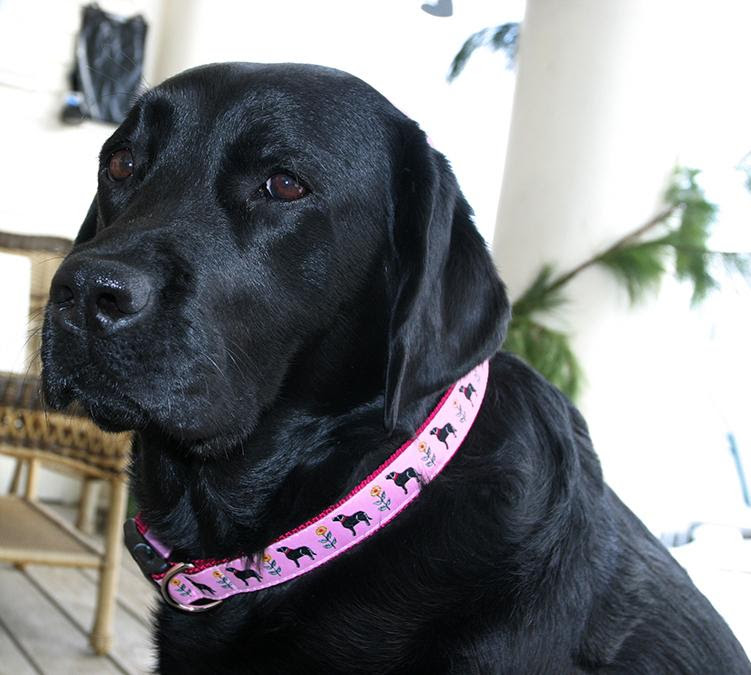 Bring your pooch and join us to celebrate Sally's 4th trip around the sun!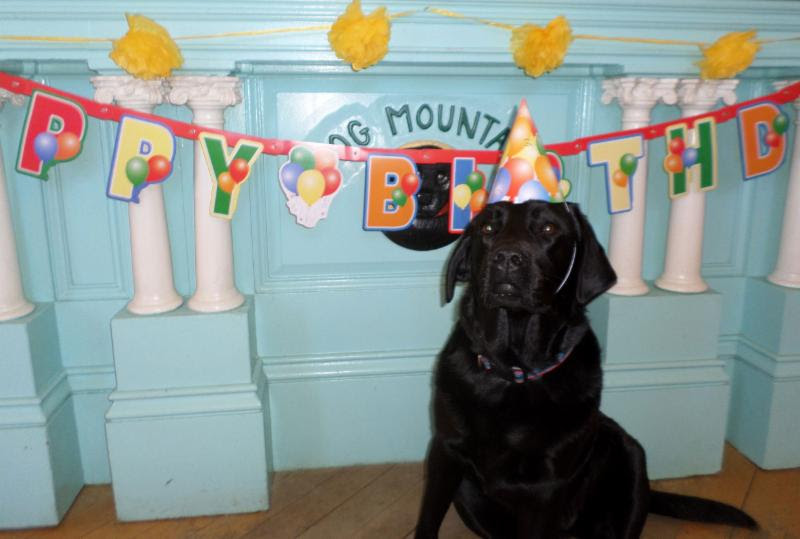 From noon to 5pm, Sally will greet her birthday guests in the gallery. Join her for doggie (and people) birthday cupcakes, as well as other delicious sweets and treats. Puppy party favors will be given out to four-legged partygoers, and Makin' Maple will provide Sugar on Snow for our two-legged guests.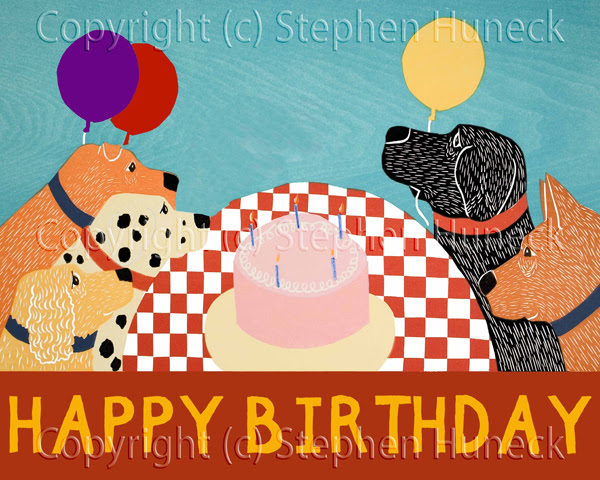 Afterwards, join Sally on the mountain for some snowy fun! Sledding, ice skating, snowshoeing, and hiking! The Dog Mountain trails will be lit with tiki torches and luminarias -- perfect for a nighttime hike.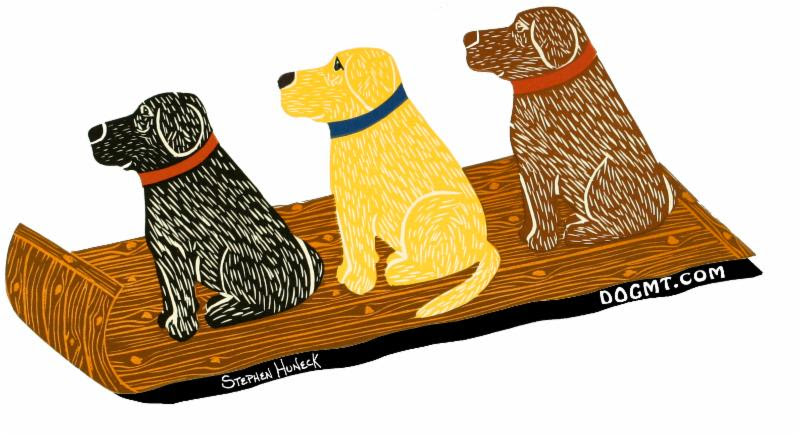 The bonfire will be burning until 8 pm. Gather round to roast some s'mores and hotdogs while enjoying a birthday snuggle under the stars with Sally!
In lieu of birthday presents, Dog Mountain will be accepting donations of pet food, pet supplies, and old towels and blankets for the Kingdom Animal Shelter.
The event is volunteer driven and free to everyone. And, as always, dogs welcome!
Thank you for your support! You make Dog Mountain possible!
With love and gratitude,
The Dog Mountain Pack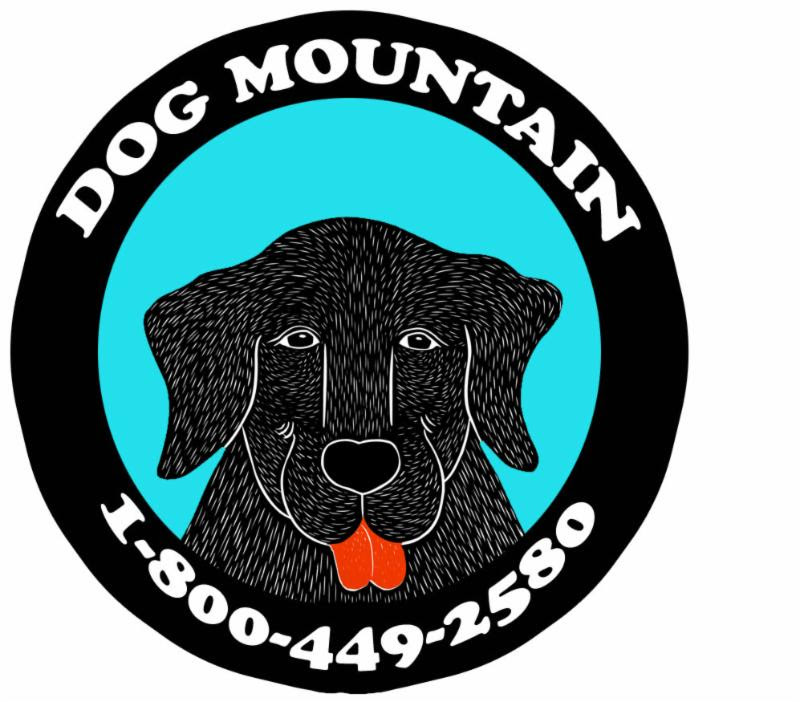 ---