New: Flying Lab Paper Prayer Flags
November 12, 2019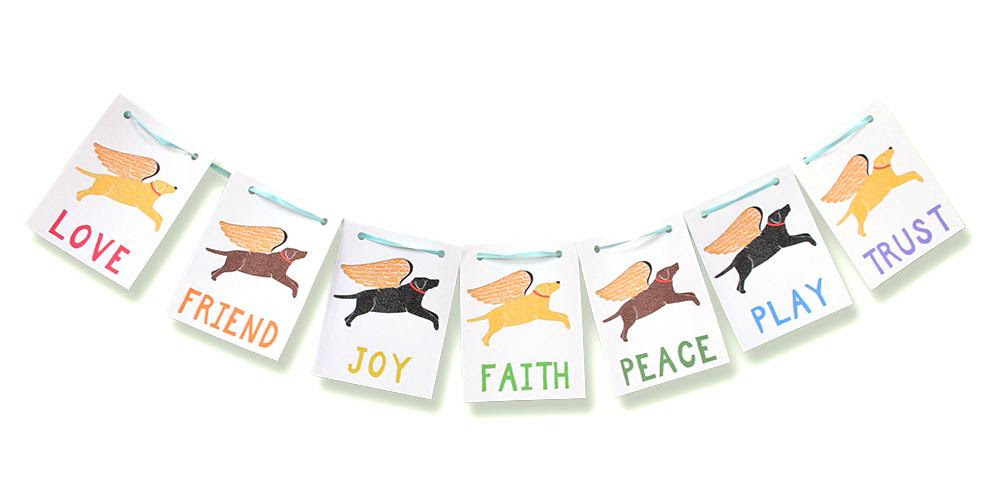 Words to live by: love, friend, joy, faith, peace, play, trust. Add some Dog Mountain cheer to any indoor patio, nursery, home, or office!
These flags are made here on Dog mountain and are for indoor use only. Each set includes 7 paper flags and ribbon for stringing.
---
New: Dog Mountain Holiday Candles
October 23, 2019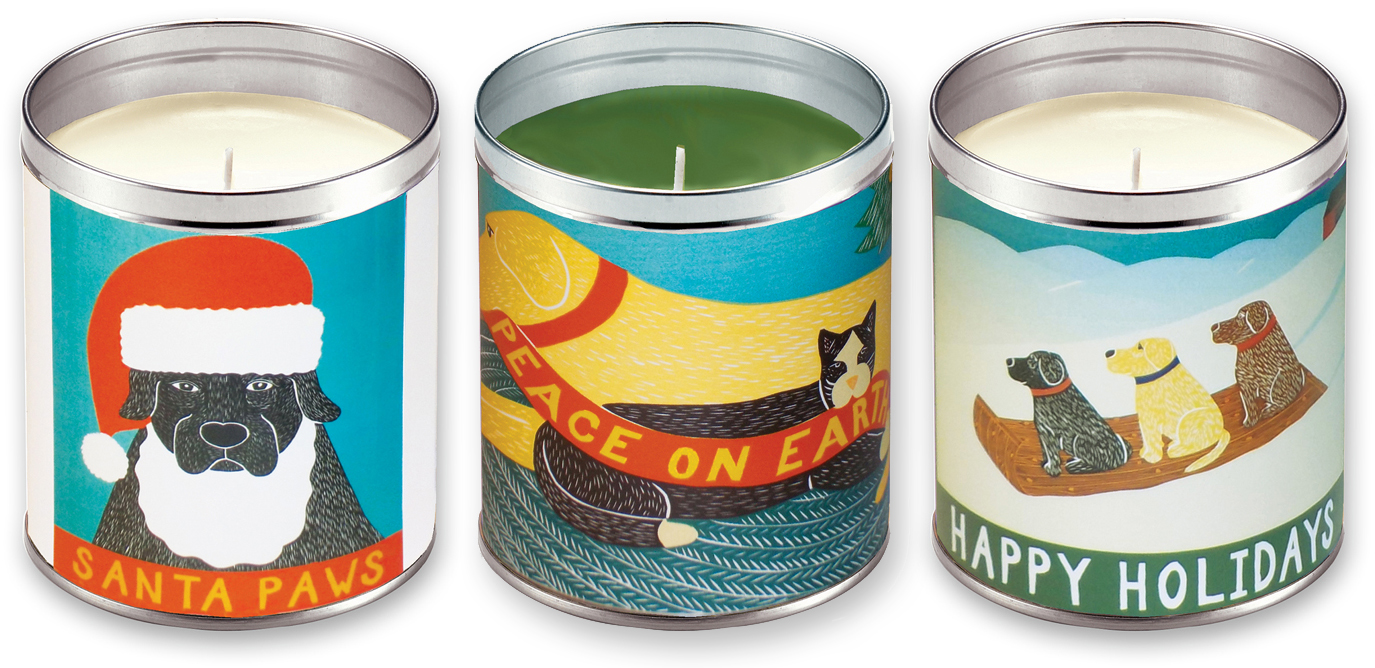 Our newest Dog Mountain Holiday Candles are hand-poured and crafted in Vermont by Aunt Sadie's Premium Scented Candles. They are made from a blend of premium wax and authentic scent containing essential oils.
Available in three different holiday designs and scents, these limited edition candles make a festive addition to your Huneck holiday decorations!
---
Dog Mountain Holiday Cards
October 11, 2019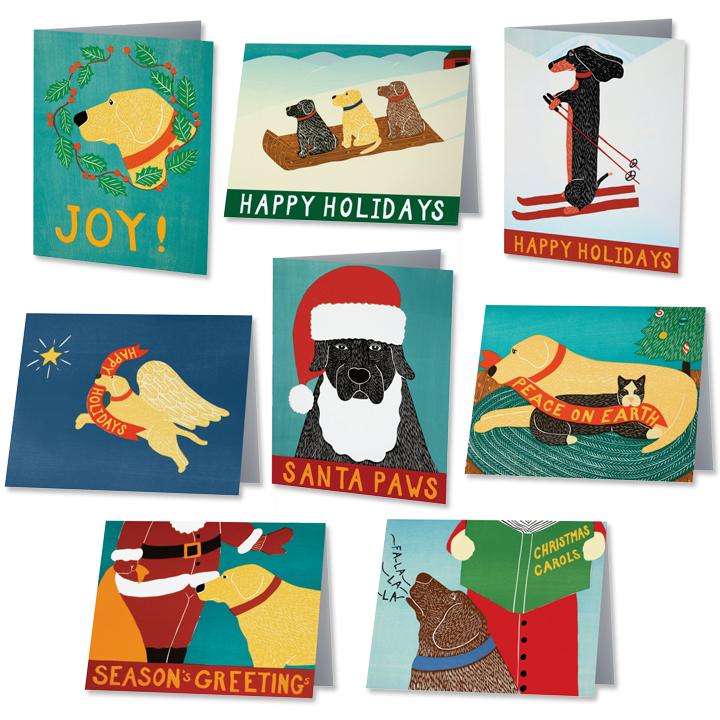 It's not (quite) that time of year yet, but the holidays will be upon us before you know it! Get a jump on the season with our Dog Mountain Holiday Card Packs
---
Back in Stock: Prayer Flags & "Sally" Plush
September 25, 2019
Two of our fan-favorites are back in stock for the Fall season!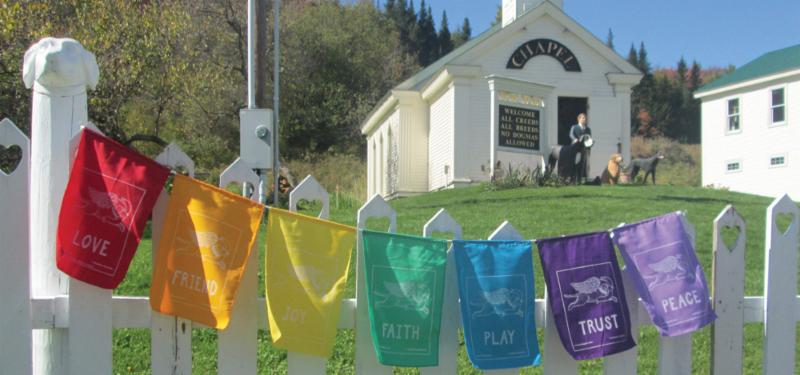 Our Dog Mountain Cloth Prayer Flags were created in the spirit of the ancient Tibetan Buddhist tradition, these colorful flag sets are a cheerful addition to any garden, patio, home or office!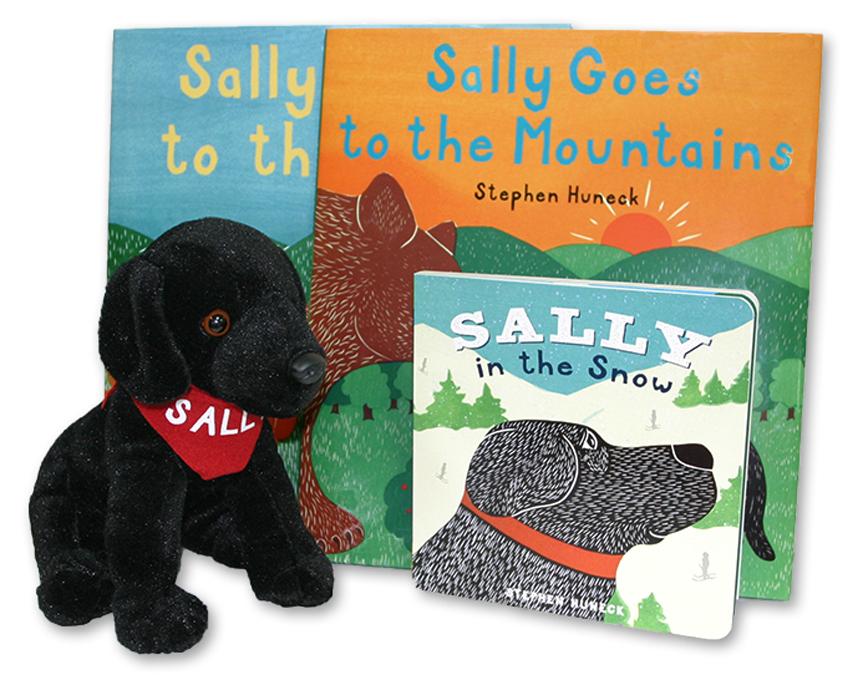 The beloved plush star of Stephen Huneck's book series is back! This snuggable "Sally" pup makes a perfect reading companion for your Sally Series book collection!
---
New: Knit Hats
September 18, 2019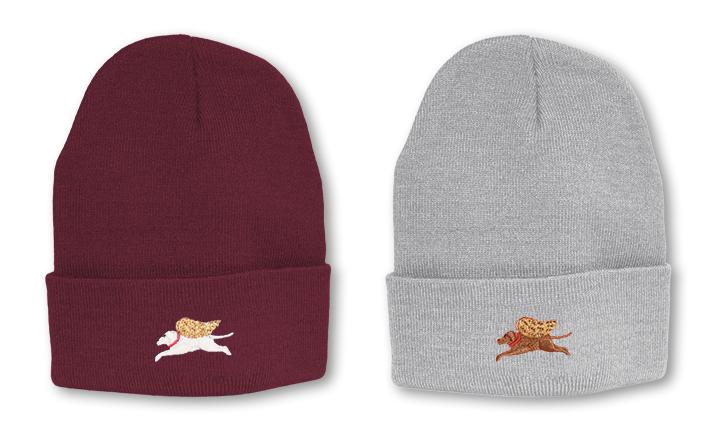 Our Angel Dog Knit Hats are back, just in time for Fall!
Available in burgundy or gray and embroidered with the famous "Angel Dog" logo, in your choice of dog color. These adorable hats will keep you toasty warm all season long!
---
New: Bumper Sticker Magnets
August 7, 2019
These new Joyride and Life is a Ball Bumper Sticker Magnets are specially formulated to be very thin while having stronger holding power than a refrigerator magnet. Outdoor rated for 1 year, but can last much longer depending on conditions. Perfect for indoor or outdoor use.
---
New: 2020 Calendar
July 3, 2019
We know it's only July, but we couldn't wait a second longer to introduce our new 2020 Dog Mountain Calendars!
Each month features a beautiful Dog Mountain-approved high gloss image. Keep track of your most important events (including the 2020 Dog Mountain Dog Parties!) with this charming wall calendar. Count the days with Dog Mountain!
---